PSA
Last year we managed to make an incredible profit of £45,839.04. This was the most that the Glyn PSA has ever raised in a single year.
The Glyn PSA funded the following items this academic year:
The Glyn PSA funded minibus.
Accelerated Reader.
Two water bottle fillers for Priest Hill.
Basketball winch system in the Sports Hall.
Hockey goals.
The Maths Watch bundle.
Uplearn software for Economics.
Educake program for Science.
Plastic shredder.
Basketball kit for teams.
Rugby tackle bags.
The Glyn PSA donation container.
Food Nutrition program for Food Technology.
24 green knives for Food Technology.
Video equipment for IT.
Display boards for Creative Arts.
Due to the pandemic, the majority of last year's fundraising came from your donations which we then sold on. Christmas tree sales, the Christmas raffles, Amazon Smile, Easyfundraising and the foreign coins collection all helped us to reach the final figure, too. We also have the ongoing Glyn PSA Lottery and the 200 Club.
Thank you to Glyn School families for everything you did to support the Glyn PSA during a difficult year last year, and we hope you will continue to support us to rasie additional funds for the school during 2021/22.
Glyn PSA
---
Donations to the Glyn PSA
Thank you for all your donations to date! Please remember that you can post items into our super-duper sealed container (in sealed bags, please) which is located at school, just inside the main school gate in The Kingsway. Alternatively, you are welcome to drop items to us in Stoneleigh. Please use either of these methods for donations, rather than taking items into school. In particular, please bring consoles and electrical donations straight to us in Stoneleigh. You can contact us via email glynpsa@outlook.com to arrange a suitable day and time.
We would love to have donations of anything we can sell on to raise funds for the school.
Some examples include: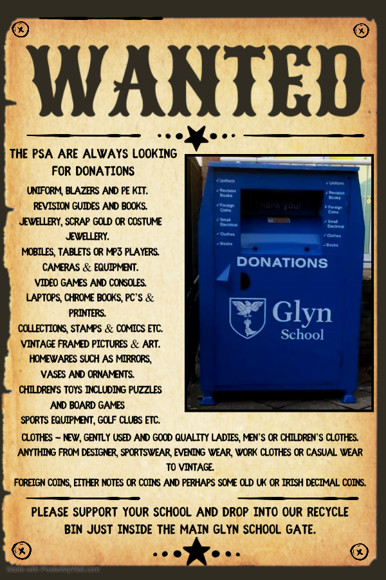 Uniform, blazers and PE kit.
Revision Guides and books.
All Clothes - new, gently used and good quality ladies, men's or children's clothes anything from designer, sportswear, evening wear, work clothes or casual wear to vintage.
Foreign coins and notes, and perhaps some old UK or Irish decimal coins.
Mobile phones, iPads, tablets or MP3 players.
Cameras and equipment.
Video games and consoles.
Laptops, Chromebooks, PCs and printers. Collections, collectables, stamps and comics.
Vintage framed pictures and art.
Homewares, such as mirrors, vases and ornaments.
Children's toys, including puzzles and board games.
Sports equipment, golf clubs etc.
Anything new that can be sold on!
Games Top Exchange - Glyn PSA
In a new optional initiative, the Glyn PSA is offering a Games top exchange programme. Families are asked to donate their child's current Games top if it is too small and in good order. Your child's name will then be added to a list for a second-hand Games top in the next available larger size at a cost of £12.50, rather than families having to purchase a new top at £32.00rrp.
Please contact the Glyn PSA via email glynpsa@outlook.com for further details of the Games top exchange.
Glyn PSA Facebook
The Glyn PSA Facebook page is the easiest place to see what's happening with the PSA. Posts from other families and general news are all listed:
https:/ /www.facebook.com/groups/GlynSchoolPSA
This year we also have Facebook groups for Year 7 and Sixth Form families:
https://www.facebook.com/groups/GlynPSA2016Year7/
https://www.facebook.com/groups/GlynSixthFormParents/
If you are unable to locate these groups on Facebook, please email us via GlynPSA@Outlook.com and we will send you the link.
WIN! WIN! WIN! With the Glyn PSA
That is what can happen when you join the Glyn PSA 200 Club. Every £1 you give goes towards prizes (18 prizes per term and the top prize can exceed £200) and towards resources for the school. Over the years that the 200 Club has been in existence, more than £70,000 has been raised to purchase items for every area of school life, which enhances students' school experience.
To participate, you simply buy one or more numbers in the monthly draw, at £12 per number per year. There is no limit to the number of entries you can purchase. The draw is open to anyone over the age of 16, so please encourage friends and relatives to join. Ideally, payment is made annually by standing order, or you may pay by cheque, £12 per number annually, payable to Glyn School PSA 200 Club.
Please email us via GlynPSA@outlook.com for a form or further information about joining the 200 Club.
Please click here to return to the main Newsletter page