Head Boy's and Head Girl's Welcome
Sixth Form Leadership Team
Our Head Boy, Nathan, and our Head Girl, Nell, welcome you to Glyn School.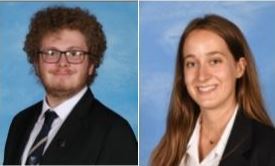 Nathan - Head Boy
For the last 93 years, Glyn School has been a respected institution in the local area, and I'm incredibly proud to be its newest Head Boy.
I have learned that what separates a good school from a truly great school is not the material that is taught, but the substance behind it. It is one thing to be taught the content of a subject, but when it is taught to you by experts who are passionate in that field, one is able to gain a deeper understanding and appreciation.
Glyn has not only provided me with the academic framework to 'learn, achieve, enjoy and succeed' but has also encouraged me to explore my own individual interests so that I can develop as an individual. The extra-curricular activities offered, from clubs outside of school and opportunities to be involved in the local community to once-in-a-lifetime trips that have taken me from the battlefields of World War 1 to the cutting-edge research conducted at CERN (and much more in-between), have allowed me to discover the kind of person I want to be, and the kind of future I want for myself.
Glyn is very much a community, with a strong set of core values, a mutual respect between staff and students alike and an expectation that every student will achieve the best that they possibly can. Support systems such as study sessions outside of school hours and subject specific clubs are put in place to make sure that this is attainable, and is all underpinned by a healthy sense of competition between houses to win the prestigious Victor Ludorum Cup.
As I come to my final year at Glyn, I am exceedingly grateful for the incredible number of opportunities that have been afforded me, and the teachers who consistently go above and beyond to make sure that I have, and will, achieve my full potential. I am also looking forward to the future which, using the tools that Glyn has shown me how to develop, I will be able to build for myself.
As we, as a community, return from our respective summers and the unprecedented events of 2020, I would like to encourage us all to move forward with a renewed sense of positivity and determination, ready to take on new challenges in the year ahead.
Nell - Head Girl
Having joined Glyn School in September 2019, it is safe to say that I didn't see my first year panning out the way it did. Not being able to all be together on the school site after March 2020 came as a bit of a shock to me and the rest of the Glyn community. However, through the help of the teachers and remote learning, we managed to get through that tough time, and I for one am now looking forward to this academic year, 2020 to 2021. Although we don't yet know what the new 'normal' will look like, I am excited at the opportunity to once again be learning inside a classroom, alongside my classmates - something that sounds so simple, but that I never anticipated saying before joining Glyn!
Throughout the six months that we were in the classroom, I really felt an improvement in my academic ability as my teachers worked hard, both inside and outside the classroom, to challenge me and help me improve on my work. As we entered lockdown in March 2020, the school continued to support students remotely, both academically and pastorally, reflecting their true care for the student body.
I have seen the vast range of extracurricular activities that the school has to offer, from IT Club to Drama Club, and Netball Teams to Debating Club, and a plethora of clubs in between. For me, this really highlighted Glyn's sense of community as it allows each and every student to feel included and wanted within the school walls. There is something for every student, whatever their interests. In addition, the vast array of clubs and activities allow for Houses and Year groups to work together, building bridges.
Although my first year at Glyn was highly abnormal, due to Covid 19, it did not take away from the enjoyment of being a part of the school. To have made so many friends in such a short amount of time is undoubtedly due to the strong support network Glyn has in place, allowing students to be themselves in a friendly and welcoming environment. I also know that this ability to pull together will be needed more than ever for this upcoming academic year, and I am confident that Glyn will not fail to provide this.
So, welcome to our school, and enjoy this year at Glyn School; it is a great place to be.
Deputy Head Boys and Girls