Head Boy's and Head Girl's Welcome
Sixth Form Leadership Team
Jack, Chantelle, Samanatha, Imogen, Lily, Oliver, Connor and Alex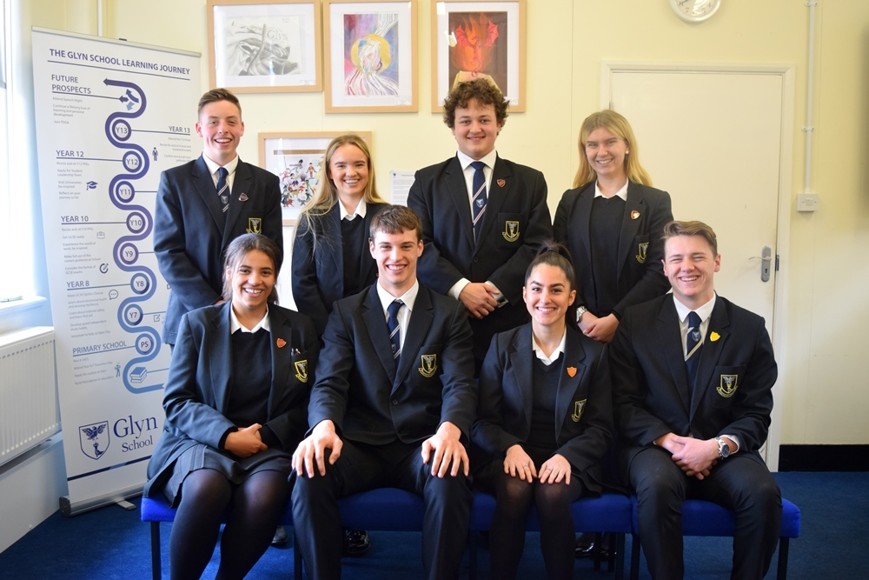 Jack - Head Boy
Glyn School has been a part of my life for nearly seven years, a process that has influenced the academic success I have had, the opportunities I have experienced and the friendships I have made - all of which will last a lifetime. It is incredible to think a decision I made at the age of eleven would have such a monumental impact on the development of not only the educational but also social aspects of my life. Now, speaking at the age of eighteen, would be a fantastic opportunity to thank my eleven year old self for making that decision, one that has moulded me into an adult I am proud to be. Much of this is success must be accredited to the work of the teaching staff at Glyn School who remain resolute in creating an environment that cultivates not only fantastic academic results but also one that encourages students to get involved with all activities.
However simply mentioning the work that is done in the classroom would be a disservice to the fantastic opportunities that Glyn has to offer, many of which for me elevate it from other educational institutions in the local area. Whether an individual's talents lie in picking out a pass on the rugby field or playing the piano in the multitude of school concerts that are put on annually - it is safe to say Glyn offers opportunities for all students that come through its gates to excel both in and out of the classroom. What also distinguishes the school from other educational experiences is the recognition of these achievements throughout the school career. Perhaps best recognised in the Proctor Hall, the walls remain covered in generations of those who have successfully achieved applications to study at the prestigious universities of Oxford and Cambridge. Nestled in the corridor adjacent to the Proctor Hall the rows of sporting success remain a testament to the range of opportunities that Glyn offers other than that of academia.
From an early stage in my Glyn career the values of community are highly stressed as important sentiments. Arguably it is a concept early in my school career that I was prone to overlook. However as I near the end of my Glyn career and begin to look forward to a life without the school routine as the foundation of my day, it is an aspect of Glyn I have grown to hold in a far higher esteem. I have had the pleasure of being involved in the Old Glynonian rugby setup that sevres to epitomise the fantastic community that is born out of the schools corridors - generations of old boys coming together to share in a passion many of them formed whilst at Glyn. It has been a pleasure to be involved in the fantastic work that has taken place over the seven years and contribute to the ever growing rich history the school offers. I am immensely proud to wear the Glyn badge whether on the blazer of my school uniform or as the crest on my rugby shirt and look forward in great anticipation to see what directions it takes itself next.
Chantelle - Head Girl
I have been at Glyn School now for exactly a year, and I can confidently say that the past year has been life changing for me and that is all thanks to this school. The opportunities I have been provided with have moulded me into a different person since joining Glyn. If someone were to ask me this time last year whether I would run for Head Girl and be successful, I would have said it was impossible. The reason why I challenged myself and put myself forward for the role so confidently is because I had and still have the most supportive teachers around me. Teachers who never fail to remind me that I am capable of achieving anything that I set myself to. This doesn't only apply to myself, and it is fascinating to me how the staff at Glyn can support and provide every individual student with everything they need to feel as secure as I have over the past year. The overall atmosphere at Glyn is the sole reason why its students engage wholeheartedly in every aspect of their education and extracurricular activities, therefore maximising the benefits they all attain as a result.
Glyn school is not only successful in producing amazing academic results but we prosper in doing what we can for the community. The school has an efficient system in place which is the core reason why we as students can achieve our goals, this system being the Student Leadership Team, Senior Prefects, and Prefects. This system installs a chain of command which enables our student body to take their ideas and create something bigger out of it. I believe this to be a very successful way of making a difference. For example, I started off as a Prefect, and collectively we took part in a community litter pick which made a massive difference to our local area. Once I then gained my role as Head Girl, I realised I was passionate about the environment and felt we needed to do more. With help from the rest of the Student Leadership Team, we contacted the teachers we needed to and made progress in obtaining 20 recycling bins for the Sixth Form building. Furthermore, we are going to work with the school in pursuing our ideas around how to manage plastic.
Although I have only been a Glyn Student for a year it feels as though I have been here for much longer. I have been welcomed so warmly into such a big community in so little time. My running as Head Girl comes to an end this year, however I am confident that every coming Head Girl will be as proud as I am to be in my position and represent our school. I will continue to be proud of everything we achieve over the coming year and am certain that I will carry the school's values and everything it has taught me into the rest of my life.