Head Boy's and Head Girl's Welcome
Sixth Form Leadership Team
Our Head Boy, Kye, and our Head Girl, Jess, welcome you to Glyn School.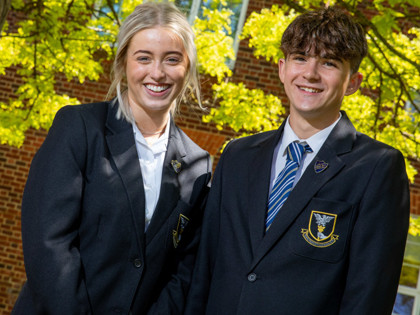 Message from Head Boy, Kye
It is my honour and privilege to introduce myself as the Head Boy of Glyn School.
Glyn has always been, and will continue to be, an outstanding school that enables young people to discover their future and become well-rounded individuals. Right from your first academic year, you study a plethora of interesting subjects, whilst being offered a wide array of extracurricular opportunities which inspires a love for learning and kick-starts a very successful seven years as a Glyn student.
For me, Glyn life is so much more than attending lessons and receiving qualifications. Glyn equips you with the information and skill-set needed for you to mould your future., allowing you to develop into an individual with drive, ambition and motivation, enabling you to leave school with a clear path and a fantastic set of qualifications to facilitate this.
I have benefited from the wide range of extracurricular activities Glyn which have not only allowed me to discover new hobbies, but academic interests as well. What I find impressive at Glyn is that there really is 'something for everyone'; whatever you enjoy, may it be sporting, creative, social or academic, there is a place for you at Glyn School.
Being a member of Glyn School is being part of something bigger than yourself, whilst representing a learning institution renowned for proven success. Every single one of us who wears the Glyn badge on our blazer is a part of a wider thriving community, full of successful individuals and amazing achievements. On a pastoral level, the Houses we are assigned to the day we join Glyn School remain a significant feature of our school lives every day. We strive for high achievement and success to win our House collective points to win the prestigious Victor Ludorum trophy at the end of the academic year. The competitiveness of the House system promotes hard work, it encourages our students to think about those around them and to enjoy group achievements; the ability to consider those around us, as well as ourselves, is what makes Glyn students so much more than academic successes. By embracing the school values and ethos, we become well-rounded, decent individuals.
As I enter my final year as a Glyn student, I feel immense gratitude towards every single member of staff, past and present; they have provided me with every tool I could need for success, they have inspired my love of academia, and they have equipped me with a strong set of qualifications for an exciting future that I can't wait to pursue.
Thank you, Glyn School.
Kye 13A, Head Boy
*********
Message from Head Girl, Jess
My name is Jess and I am very proud to say that I am Head Girl here at Glyn school.
Although I am relatively new to Glyn School, having joined at the beginning of Year 12, Glyn has already offered me so much, both academically and personally, and given me opportunities that I wouldn't have been given elsewhere. Glyn offers students structured support and guidance that continues to produce successful young men and women, year after year. The wide range of academics and extracurricular opportunities allows young people to flourish into the people they want to be; and truly be themselves.
The teachers and staff here at Glyn are the best you can get. Their friendly, enthusiastic approach to learning makes every lesson fun, fresh and exciting, making learning enjoyable for everyone. Moreover, the endless extracurricular activities that are available ensure that there is something to enjoy for everyone: Lego League, Football, Rugby, Chess, Drama and Textiles Clubs, to name just a few. Many of the clubs are assisted by Sixth Form students, alongside our amazing staff.
The resources available at Glyn School are extensive, whether you may be a future Scientist, or a West End star in the making. We have incredible sports and Performing Arts facilities: an enormous Sports Hall, our own gym, table tennis tables, music rooms, dance studio, and also a huge library with every book you'll ever need and computers you can use for your studies, too.
When you enter the school, you will instantly be surrounded by other students in your Form group who will help you to make and make lifelong friendships. Your Form Tutor will get to know you very well and will do everything they can to help you settle in.
Although Glyn places a huge importance on succeeding academically, the school also knows how important it is to prioritise safeguarding and mental health. Glyn's SEN department and the SHARP system used within the school enables students to receive the support they need in any situation. Students leave the school with the best grades they possibly can, but they also leave as happy and confident young people, set up for a lifetime of opportunities and success.
I would like to thank Glyn School for making my time here so enjoyable, providing me with a set of grades that will enable me to go down any route I may choose, alongside friends that I will cherish for the rest of my life.
Thank you for reading.
Jess, Head Girl
*********
Student Leadership Team