Accreditations

We are proud to have received Outstanding Ofsted reports for the last two inspections, 2008/09 and 2011/12. Please click here for further information.
---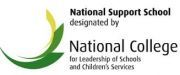 Since 2009 Glyn School has been designated as a 'National Support School' by the National College for Leadership of Schools and Children's Services.
This designation is in recognition of our proven track record of outstanding leadership and management, the achievement of outstanding results for the community, and successfully providing school-to-school support to other schools.
We are delighted that the work the staff and governors have been providing at Glyn School for some years has now been recognised at a national level. This status now allows us to expand our support we give and at the same time to continue to keep improving the quality of education we provide for all our students.
---
Accredited ITT Provider - training provided through GLF Schools' Teacher Training
In July 2015, GLF Schools was accredited as an Approved Provider of Initial Teacher Training (ITT). This means that GLF Schools are able to provide programmes and assessment leading to the award of Qualified Teacher Status (QTS) for successful candidates. This accreditation acknowledges our vast expertise in ITT, which has seen GLF Schools train over 100 primary and secondary teachers on the SCITT programme.
---
On 3 March 2017, Glyn School was reaccredited with a three year full Investor in Careers award having demonstrated a commitment to provide impartial, independent careers education, information, advice and guidance to all young people. This is one of the highest accolades an organisation can receive for excellence in this area of work. The Investors in Careers standard is about improving students' awareness of opportunities, raising their aspirations and working with them to ensure they achieve their full potential.
---
Schoolguide.co.uk, one of the UK's leading school websites, has awarded Glyn School a 5 Star Certificate of Excellence as a result of our dedication to academic excellence.
---
Gold School Games Mark
We are delighted to announce that we, Glyn School, have achieved the School Games Gold Mark Award. The School Games Mark is a Government led award scheme launched in 2012, facilitated by the Youth Sport Trust to reward schools for their commitment to the development of competition across their school and into the community, and we are delighted to have been recognised for our success. We are extremely proud of our pupils for their dedication to all aspects of school sport, including those young volunteers, leaders and officials who made our competitions possible. As part of our application, we were asked to fulfil criteria in the areas of participation, competition, workforce and clubs, and we are pleased that the hard work of everyone at our school has been rewarded this year.