Pathways after A Levels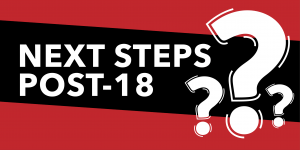 At the end of Year 13 many of our students go onto university, take a gap year and an increasing number go onto apprenticeships.
Below are links to lots of information on Next Steps after A Levels including relevant links and documentation to support Parents' and Carers'.
For more information about Apprenticeships, please see our dedicated area of the website by following this LINK.
We also have a number of Parents' and Carers' recouces - including Support Guides, Podcasts buy following this LINK.
Taking a Gap Year
At the end of Year 13 a gap year is one of the options open to students before embarking on a degree course, apprenticeship or into full time employment.
Many students consider taking a gap year to have a break from studies, to complete work experience, to spend time volunteering or simply to see the world before University or employment. Whatever the reason, taking a gap year can be very beneficial.
There are advantages and disadvantages when considering a gap year and its important that you research this well before you commit.
Below are three articles about taking a Gap Year and what the pros and cons are:
UCAS - Gap Year Ideas and things to think about
The scholarshiphub - 10 Pros And Cons Of Taking A Gap Year
Goabroad - 6 Potential Cons of Taking a Gap Year (And Why They're Okay)
---
Gap Year Providers:
IBM Gap Programme - Business and Technical gap year placements with salary £18,000 per annum.
ESU Secondary School Exchange Scholarships - Are you considering a gap year before university? Would you like to study in the USA? Then have a look at these first class scholarships available to students who would like to study at US High School after their A Levels. There are two programmes, one which involves two terms or another for the whole year. Several Caterham students have followed this path in recent years and thoroughly enjoyed their experiences.
Year Out Drama Course - Based in Stratford upon Avon, the year long course is suitable for students who would like to immerse themselves in a full time drama course before moving on to the next step in their career or education.
Schroders Gap Year - Twelve month internships for school leavers with an asset management giant.
Natucate Conservation Programmes - Natucate offer a wide range of opportunities around the globe, from whale shark protection in the Maldives, to elephant conservation in Namibia and wolf and lynx research in Slovakia.
Year in Industry - The Year in Industry is a fantastic opportunity to spend your gap year, or year out during your degree, working in a relevant science/engineering based organisation and get paid!
---
Other advice:
Government Travel Advice. Good tool to check where you are travelling is safe.
University and Student Finance
At the end of Year 13 many of our students go onto university and an increasing number go onto apprenticeships. This section has lots of information on universities and student finance. For more information about apprenticeships, please refer to our Guide to Apprenticeships section.
At the bottom of the page there are further links for Parents and Carers.
With tuition fees over £9000, choosing to apply to university is a very important decision to take and, before committing to a minimum of three years studying at university, whether in the UK, Europe or further afield, it is vital that you research your options well.
The UCAS website is a great place to start your research. This is also where all applications are made.
The Uni Guide helps students make more informed decisions about their higher education choices and courses.
The Russell Group's 24 members are world-class, research-intensive universities. They are unique institutions, each with their own history and ethos, but who share some distinguishing characteristics.
How do you know which universities are the best? Take a look at the three sites below to help you decide:
The Uni Guide - University League Tables 2023
The Guardian - University League Table 2023
The Times - Best Universities in the UK 2023
---
Student finance: how to apply
This is the official website where all students apply for a student loan in the UK.
For more information on student loans and how to make them go further have a look at the two articles below:
Stretch your student loan tips!
Final note:
This section is only the start of considering university as an option at 18. For those joining the Sixth Form at Glyn School, there is a thorough supportive programme to enable our students to make the right choices for the future. The program starts in the September of Year 12 and runs for the full two years.
To view the Key Stage 5 Careers Map, please click on the link.
---
Parents' and Carers' further information:
The Parents' Guide to UCAS Personal Statements – 2022 edition