Examination Information
You can contact the Examinations Office on 020 8716 4923.
The Examination Lead is Mrs C Dean who can be contacted via email C.Dean@glynschool.org or telephone 020 8716 4949 ext 1807.
For information regarding Results Days for 2023 and Collection of Certificates for former students, please scroll to the bottom of this page.
---
Notice to Private Candidates
Please be aware that we are unable to take any further requests for entries as our deadline of Friday 3 February 2023 has passed.
---
Student Examination Booklet 2022-2023
Please find below a link to our Examination Booklet for 2022-2023. All students who are taking External Examinations MUST read this booklet prior to the Examinations. Please be aware we follow the same procedures for our Internal Pre-Public Examinations (PPE).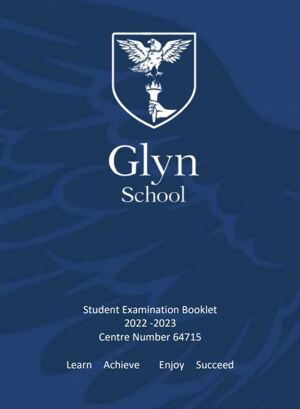 ---
Examination Information for 2022-2023
Please click on this LINK to access all the information relating to External Examinations for 2022-2023.
Contents includes:
Exam Boards
Subjects
Exam Codes
Exam Dates
NEA components, where relevant
Please be aware, there are 3 contingency dates in place nationally in the event of a national or significant local disruption to examinations in the United Kingdom. The contingency plan/date is designed to ensure a consistent and effective response to any major disruption to the examination system. Examples of disruptions could include severe weather, widespread illness, travel disruption or system failures. All pupils must ensure they are available for these dates:
Thursday 8 June 2023 (Examination contingency afternoon session)
Thursday 15 June 2023 (Examination contingency afternoon session)
Wednesday 28 June 2023 (Final examination contingency day)
---
Official documents from the Examination Boards, Glyn School Examinations Policies and documents can be found in the link below:
Results Day 2023 - Information
Collection of Summer Exam Results 2023
Students completing a full GCSE or A Level qualification this summer are invited to collect their individual Candidate Results Statement on the following dates and during the times shown:
Qualification Level
Date
Time
Venue
A Level
Thursday 17 August 2023
8.30am to 12.00pm
Sports Hall
GCSE
Thursday 24 August 2023

8.30am to 8.45am ABCD

8.45am to 9.00am MOST

Sports Hall
Students unable to collect results
If any student is unable to collect their results in person, they may nominate a friend or relative to do so on their behalf. To nominate, the student will need to email exams@glynschool.org clarifying the name of the person collecting on their behalf and permission to do so. The nominee collecting the results, must bring a form of identification with them. If you are unable to collect your results in person, results will be emailed to student's school email accounts at the end of the results day. Alternatively, if you require results to be posted, please leave a stamped self-addressed envelope at the Exams Office before the end of term. Envelopes should be a minimum of size A5 and have the correct postage rate to avoid postal delays.
Collecting Exam Certificates
Exam certificates for Summer 2023 will be released to schools by the exam boards in late November 2023. Once we are in receipt of these certificates from all the exam boards, we will contact you with an invitation to collect your certificates from the school. You will need to provide a personal email address for us to contact you with this information. Please complete the attached google form with the necessary information using this link: Exam Certificate Form.
For students who wish to have their certificates sent by recorded delivery, there is a fee of £5. This service will be added to ParentPay on Friday 30 June and shall remain open until Friday 25 August 2023.
Collection of Exam Certificates - Former Students
It is not possible to post Exam Certificates. Exam certificates must be collected from the school in person. Before coming to school to collect certificates, please email exams@glynschool.org so that we can have them ready on Main Reception for you to collect.
Former students who are unable to collect certificates in person should email exams@glynschool.org to nominate someone to collect the certificates on their behalf.
Main Reception is open Monday to Friday, term time only, from 8.00am to 4.15pm.