Language and Literacy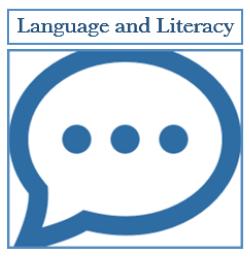 'Language and literacy skills provide students with the fundamental building blocks not just for academic success, but for fulfilling careers and rewarding lives.' (Education Endowment Foundation)
At Glyn, we sustain a relentless focus on highly effective Learning and Teaching, where inspirational teaching, underpinned by the Glyn Learning and Teaching 7, creates a deep understanding of the curriculum and enables access and challenge for all students. Language and Literacy is a key principle of the Glyn Learning and Teaching 7, and is underpinned by evidence of its effectiveness. We adopt a cross-curricular focus to promoting language and literacy amongst our students and staff. We believe that promoting Language and Literacy is a whole school responsibility and not just that of the English Department.
As Daniel Rigney explains, 'the increased content and demands of the new GCSE specifications have highlighted a need for students to be "word-rich". Rigney described those students who are 'word-rich' as possessing knowledge of 7,100 words. Students need to acquire 400 words a year to make significant contribution to verbal functioning.
Significantly research has highlighted that, 'the more extensive a reader's vocabulary and background knowledge, the easier it is to gain new information offered by a text' (Alfassi, 2004). 'Those who know 90 percent of the words in a text will understand its meaning and, because they understand, they will also begin to learn the other 10 percent of the words.' (E.D. Hirsch, 2003)
Therefore, we need to explicitly address the needs of the 'word-poor' in an attempt to bridge the gap between these students and the 'word-rich'.
How can we close the 'word gap'?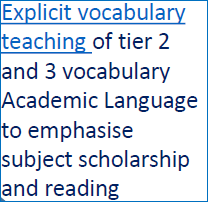 At Glyn School we believe that it is important to support our students' development of vocabulary by providing them with a range of vocabulary learning strategies that they can use to confidently explore any unfamiliar words they encounter. We aim to promote academic vocabulary by ensuring that teachers across the curriculum identify subject specific vocabulary within their subjects: tier 2 (exam command words and mature, academic vocabulary) and tier 3 (subject specific words and key terms).
We ensure that students are exposed to academic and subject specific vocabulary multiple times, interleaving the vocabulary throughout the term and year. It is important to explicitly teach this vocabulary through a variety of methods.
Robert J. Marzona created a successful strategy that teachers can use in the classroom to teach vocabulary, it is called the 'Six Steps to Better Vocabulary Instruction.'
It involves the following steps:
1. Provide a description, explanation, or example of the new term - the students should generate their own explanation.
2. Ask students to restate the description, explanation, or example in their own words.
3. Ask students to construct a picture, pictograph, or symbolic representation of the term.
4. Periodically ask students to discuss the terms with one another.
5. Involve students periodically in games that enable them to play with terms.
6. Students apply their knowledge of new terms in low-stakes multiple choice quizzes.
We invite you to join us in developing your child's language and literacy at home and support them by exploring vocabulary and using several of Marzona's steps above. Over time these strategies can be internalised as independent word learning skills that students will use automatically.
As parents and carers, you could engage in discussions with your child about their reading and reading habits. Share with them your favourite fiction and non-fiction books, newspapers and articles, and highlight how reading is relevant, inspiring and informative in your day-to-day lives. Margaret Kristin Merga, who has researched interactive reading for students, concludes that we "need a greater emphasis on quality interactive reading experiences at school and at home, which can improve student skills, and offer social and emotional advantages."
Listed below are several reading lists which can be used to encourage your child to read a range of texts. When they encounter new vocabulary try and use Marzona's 'Six Steps to Better Vocabulary Instruction' to help your child learn the new vocabulary.
If you have any further questions regarding Language and Literacy at home or at school, please contact Ms Picken via r.picken0@glynschool.org
Language and Literacy at Glyn School is led by Ms R Picken

'Inspire a love of reading while monitoring progress and attainment.'
"Renaissance Accelerated Reader (AR) is one of the most heavily researched programmes in the world. Independent studies from the National Literacy Trust (NLT) and Education Endowment Foundation (EEF) have found a positive relationship between Accelerated Reader usage, reading attainment and enjoyment of reading." (Renaissance Learning)
Students initially login and answer 34 multiple choice questions, which adapt in difficulty based on the student's responses. The test must last a minimum of 20 minutes and a wealth of data, including reading age and ZPD (Zone of Proximal Development) is immediately available, which then highlights a reading range appropriate to each student's reading range.
Using the ZPD obtained from their Star Reading test, students can select a suitably challenging book from within their reading range, which ensures that they can access the text while continuing to grow as readers. When they've finished the book, students take a short online quiz, assessing if they have read and understood the book. They then move on to the next! Over 30,000 quizzes are available, and more are added every month.
Students should be reading for at least 20 minutes every day and should complete the appropriate quiz as soon as they finish in order to ensure their quiz results are accurate.
Students are able to bring in books from home as long as they have been approved by their class teacher and you are able to search book reading levels here: http://www.arbookfind.co.uk/default.aspx
If you have any further questions regarding Accelerated Reader and KS3 English, please contact Miss Phillips via J.Phillips@glynschool.org.
Accelerated Reader and KS3 English at Glyn is led by Miss J Phillips.
Accelerated Reader: Please click here: Accelerated Reader