Learning and Teaching at Glyn School
Learning and Teaching is at the heart of the school. We aim to deliver lessons that inspire and engage students who will then go on to fulfil and exceed their potential.
What our mission is at Glyn School:
Glyn's mission is to inspire a love of learning and achievement that is founded on the virtues of integrity, respect and a desire to succeed. Every person is highly valued and expected to achieve their potential, through academic challenge, sporting endeavour and technological innovation.
Our vocation
Our vocation unites us in our shared goal of excellence in all we do for our Students. It drives us to inspire a love of learning and achievement, founded on the virtues of integrity, respect and a desire to succeed.
Our craft
Our craft shapes our professionalism. We are proud to continue to learn how to be 'Great Teachers' and recognise that, ultimately, this is how we will best ensure our Students make exceptional progress.
"The only way we can improve Teacher quality is to create a culture of continuous improvement. This job … is so hard that one lifetime isn't enough to master it. All Teachers need to improve their practice - not because they are not good enough, but because they can be better. For that reason, we think it is entirely appropriate for Teachers to be held accountable for making improvements in their practice." (Dylan Wiliam)
Every member of teaching staff has a CPD Appraisal target to support our culture of Teacher development. We measure our professional standards against our professional learning, the deliberate practice we engage in and the impact this has on our Students' outcomes.
We sustain a relentless focus on highly effective Learning and Teaching, where inspirational teaching, underpinned by the Glyn Learning and Teaching 7, creates a deep understanding of the curriculum and enables access and challenge for all Students. The classroom must be an exciting place to be that nurtures and cultivates a love of learning, embraces technology for learning and provides a stimulating, engaging learning environment that facilitates outstanding student progress.
Our view of Learning and Teaching
'Great Teaching' transforms lives.
Our Students get one, life-changing chance at education, so we must 'make every lesson count'.
Exceptional outcomes are secured by effective, evidence informed teaching, which maximises impact in the precious time we have.
Learning is hard, cannot be seen and is secured in the long term.
Great learning takes place when we aim to reduce cognitive load, build stronger, longer lasting memories and teach for transfer so learning is flexible.
Expert Teachers scaffold Students' internal intellectual architecture to build their self-efficacy and self-regulation.
Our Commitment to the Glyn L&T 7
Our professional learning and CPD seeks to make us increasingly research informed, drawing from an established evidence base. Whilst, we began this journey in 2017, this remains an ongoing focus for our professional learning.
We have fundamentally re-examined our understanding of learning, which, has in turn, shaped our view of what makes 'Great Teaching' at Glyn School. This guided the development of the Glyn L&T 7 Principles, which have been in place since September 2018.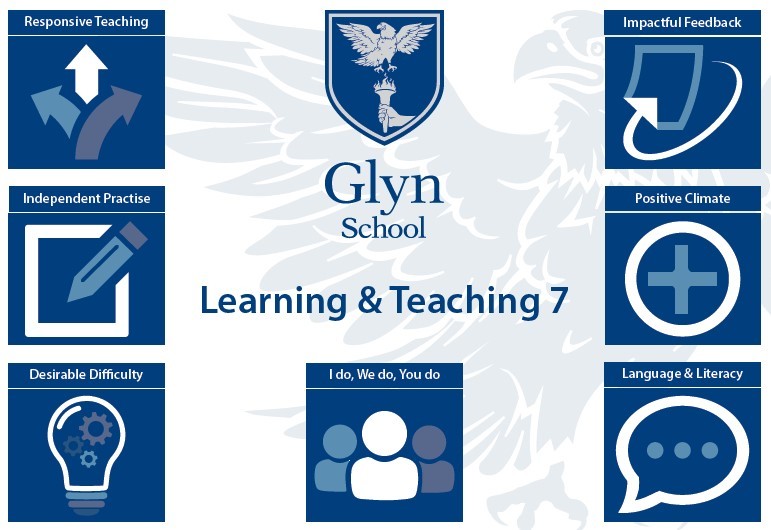 The principles are underpinned by evidence from the 15 things we have learnt about learning. (Here 2 videos explain facts 1-6 and 7-15 in more detail.) "We define effective teaching as that which leads to improved student achievement using outcomes that matter to their future success" (''What makes great teaching?' Coe et al 2014). These principles support our understanding of why we should develop our practice in the most effective way. "We have far too many 'how to' guides in schools but far too few 'why to' guides" (David Didau).
The L&T 7 are not a checklist for a lesson or things we are required to 'show' we are doing. "Teachers need to understand theory and evidence of learning and make informed judgements, not comply with rules" (David Weston). It is critical that these principles are shared and understood and then embedded in a meaningful way in the context of our own classrooms.
Our virtual CPD library 'Glyn TV' is an incredible, unique resource, which serves as a CPD hub. It includes colleagues sharing practice, pedagogy and resources as well as a wide and expanding range of tutorial videos on many aspects of Teaching and Glyn School life
Our use of Chromebooks in the Classroom:
Chromebooks are a tool, to support the delivery of the L&T 7. They enable us to blend technology with traditional approaches to enhance great Learning and Teaching. Some suggested 'tech' tools are included on the L&T 7 interactive document here. You can explore links on the Chromebook tools, which enhance each of the 7 principles. This is by no means an exhaustive list, so please continue to experiment and contact Aja Cortizo to share a 'Tech Tip' of your own or a Monday morning briefing slot. Since September 2018, our 'Google Gurus' have share a Tech Tip of the Week which can be found here on Glyn TV.
Our Changing curriculum:
Is where the L&T 7 become great subject specific pedagogy. Great subject pedagogy, along with high quality instruction are cited as the two factors with the strongest evidence in securing exceptional student outcomes ('What Makes Great Teaching?). Therefore, the challenges and choices our changing curriculum presents us, is a critical focus. In May 2018, we launched the Curriculum Framework Document, which will continue to frame our professional dialogue around curriculum development. Over the past year, we have begun to outline our curriculum intent and map and sequence our curriculum plans. This too remains a significant ongoing piece of work and a core priority, as will the next step of building models of progression in each subject.
Great Learners:
Can self-regulate their own learning. This means they review their ongoing understanding to work out what they know and do not – yet. They can plan how to address these gaps and, crucially, stay motivated during this process to keep improving. Self-regulating learners are the gold standard for the quality of our curriculum and supporting Students in becoming successful learners is one of our fundamental responsibilities.
This document outlines how Students will understand and use the L&T 7 to improve their self-regulation and become Great Learners. We recognise that this is a genuine challenge for Students. Self-regulation requires explicit teaching (in subject domains), modelling and review. Independent Learning Tasks are a core part of developing self-regulation and this document supports Teachers setting and Students completing consolidation of learning tasks independently. We aim for the curriculum to build progression in self-regulation between Years 7-13 as evidence suggests the associated additional learning gains grow, as Students get older. In 2018-19, we began to teach this to Year 7 Students, but this remains a significant focus of Learning and Teaching.
---
What students say about learning and teaching at Glyn School:
"Learning is great - so are the lessons"
"We have some amazing lessons"
"I love learning interesting things in lessons"
"All of the lessons are enjoyable and fun!"
"We have Inspirational staff"
"I make great progress"
---
What Parents and Carers say about learning and teaching at Glyn School:
"The teachers teach well and engage the students"
"My son is receiving a first class education"
"The focus is on learning and how everything seems achievable"
"He's really enjoying learning new things"
"The teaching is excellent"
"There is a well-rounded approach to equipping boys with life skills as well as an academic focus"
---
What Ofsted say about Learning and Teaching at Glyn School:
"There is much inspirational and outstanding teaching in the school, with the remainder never less than good. "
"Teachers have a real passion for their subjects and have highly effective skills in imparting knowledge and understanding to students at all levels. "
"Teachers know their students very well as individuals, and plan activities which are closely matched to individual strengths while addressing weaknesses in existing learning."
"As skilled practitioners, teachers very effectively adjust their lesson plans to give a little more time for greater consolidation when needed or speeding up thinking by setting an additional challenge. Consequently, teaching meets the needs of students of all abilities and needs, including disabled students and those who have special educational needs. Students are eager to learn because lessons are exceptionally well organised. Teachers use high quality resources and information sheets."
"The strong learning ethos incorporates many opportunities for students' spiritual, moral, social and cultural development. Consequently, students learn tolerance and respect for others."
"Almost all parental responses were positive, with some praising the extra help given at examination times and including comments such as, 'Teachers do everything to support his needs.'