Posted on: 06/05/2022
Glyn Players Aid Waterfall Cup Triumph!
CONGRATULATIONS to our Year 7 Glyn Rugby players who made up the bulk of the Surrey Waterfall Cup-winning Sutton & Epsom RFC Under-12 squad this season.
The team went undefeated all season and faced a tough Dorking side in the Cup final at Camberley. After a hard-fought match, the score was 15-all, but Sutton & Epsom were aw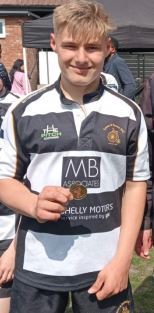 arded the prestigious trophy outright, courtesy of scoring the first try in the game.
Knowing that a draw was good enough to win the Cup outright, Charlie 7C kicked the ball into touch after the side-line referee said that time was up. Former football goalkeeper Charlie 7C (pictured) was named Man of the Match to cap off a brilliant first season of rugby. Fin 7A and James 7A also won trophies at the club's end-of-season prizegiving.
Glyn School players in the Sutton & Epsom Under-12 squad were: Charlie 7C, Jonas 7M, James 7A, Joe 7D, Pierce 7M, James 7SB, Ryan 7T, Tristan 7SB, Thomas 7C, Shai 7C, Arlo 7O, Jack 7SB and Fin 7A.
Above report with thanks to Mr Morrison, Sutton & Epsom Rugby U12 Coach