Posted on: 23/05/2022
***U13 Surrey Schools County Cup Winners!***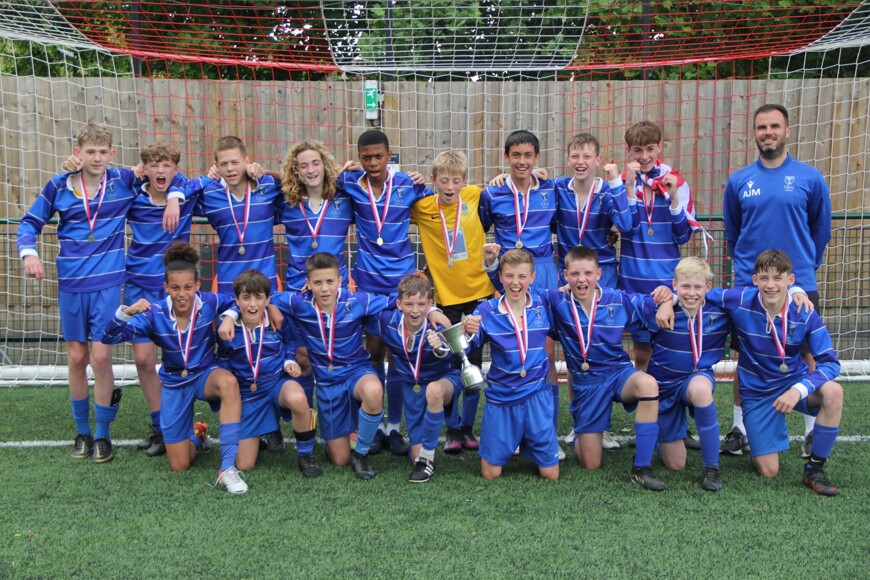 UNDER 13 SURREY SCHOOLS' COUNTY CUP FINAL WEYDON SCHOOL 0 GLYN SCHOOL 5
With the unreliability of clouds hovering over Box Hill and the surrounding high ground providing the occasional squally shower as well as brief sunny spells over Dorking Wanderers FC ground, Glyn paid no heed to these conditions and played some wonderfully pleasing and constructive football in their comprehensive victory over Weydon School from Aldershot.
There were pre-match rumours of the opponents having some Southampton Academy players amongst their ranks and the early exchanges appeared a little cagey, and although Glyn did have the majority of possession, they were showing no real penetrative threat. Full backs, Hari (8D) and Louis (8O) were often allowed the space to overlap, and their accurate distribution was, at times, wasted by recipients taking too many touches. Weydon offered little in the way of attacking flare and when they did attempt any foray towards Glyn's penalty area, the central defensive partnership of Kayden (8M) and Freddie (8D) were supremely dominant.
In midfield, Pearce (8O) and Harvey (8O) ferreted indefatigably, denying the opposition any lengthy spells of possession and it was their diligence and tenacity that provided the scope for Glyn's opener. Daniel (8T), a constant thorn to Weydon's defence all game, collected the ball after a Pearce (80) scavenge and drove aggressively down the left flank before delivering an inch perfect ball for the overlapping Hari (8D) to head home. It was soon two for Glyn as the the adroitly unpredictable Cameron (8SB) converted an almost copycat move and within minutes, his quicksilver movement bamboozled Weydon's defence again and Glyn were 3-0 up, midway through the first half.
Several chances were squandered by Glyn during the remainder of the half, and whether down to over-confidence or lack of concentration, the game became a little scrappy, but Glyn were happy to go into half time with a comfortable 3-0 lead.
The opening exchanges of the second half were fairly even, although Glyn's goal custodian, Tristan (8B), as with the first half, had little to do other than to collect weak, long-ranged shots. Liam (8B) and Percy (8B) were becoming far more noticeable and influential and whilst they certainly weren't the only ones guilty of taking too many touches at times, some promising openings were wasted due to this seemingly all too common trait in young footballers. However, both boys were unremitting in their forward defensive duties, regularly overturning opposition possession with their dogged tracking and tackling.
It was fitting that Daniel (8T), with tonsorial flow, scored Glyn's fourth. After a powerful run and one-two on the edge of the penalty area, the Man of the Match let fly with an unstoppable left foot howitzer that gave Weydon's keeper absolutely no chance.
Jake (8D), Jack (8SB) and Rhys (8M) were introduced to give fresh impetus as the half wore on and it was Jake (8D) who wrapped up the scoring, finishing off yet another glorious flowing move. There were still opportunities to increase the lead but a 5-0 win in a cup final is as emphatic as it comes and although Weydon were a well beaten team, a higher goal differential would have been somewhat harsh on the collective endeavour they displayed throughout.
Those fortunate enough to be at Meadowbank to see Glyn's impressive Year 8 football squad will have returned home knowing that there could well be something special developing with this team. With the school having a formidable and long reputation for producing some exceptional football teams, this collection of boys, with continued application and improvement are likely to join the pantheon of successful Glyn teams over the ages!
Man of the Match: Daniel (8T) - Non-stop power, pace and prowess that frightened Weydon each time he touched the ball.
The "original" Roving Reporter
Our thanks to the Original Roving Reporter for dusting off his quill to produce this wonderful report.