Posted on: 12/07/2022
Spectacular Sports Day
A warm, sunny day greeted participants in Years 7 to 10, Year 12 helpers and staff alike, as new gazebo canopies fluttered gently in the light breeze and a lone drone drifted across the blue and white sky, capturing incredible aerial video footage of proceedings. With the new look line-up on the grass field annexe boasting impressive-looking seated volleyball, dodgeball and cricket ball throwing, the promise of fun but competitive activity was almost tangible. The introduction of House coloured bibs to identify runners was a success and increased the fervour on the grass mound as students could now confidently cheer on their fellow House tutees.
The traditional track relay o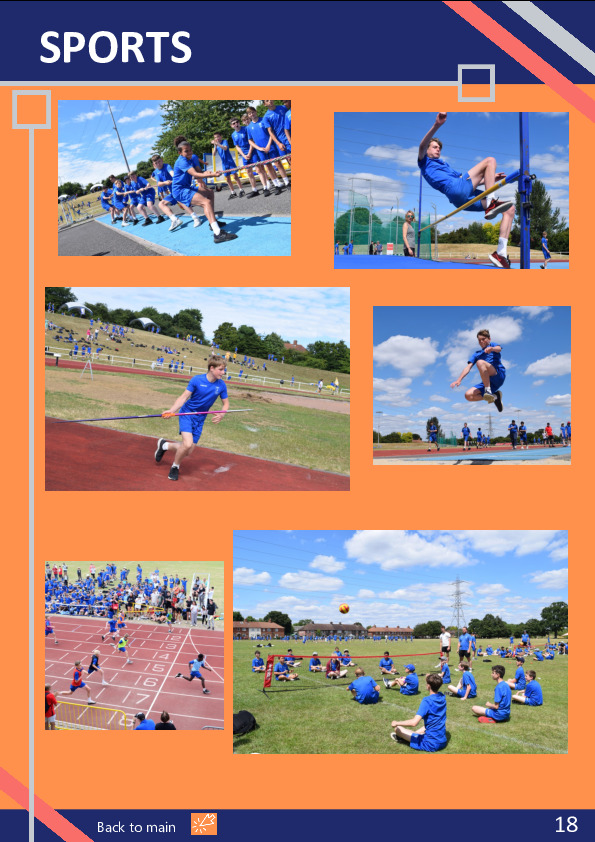 peners helped whet the appetite, whilst early field endeavours yielded a Year 7 shot put record of 10.44m by Charlie 7C. The 800 and 1500m events took place at arguably the hottest part of the day, however, despite the 22 degree temperature, the athletes soldiered on as if oblivious to the sun's penetrating rays.
Lunchtime arrived in a flash with the competition running to schedule and a well-earned break was gratefully received by all; an opportunity also to rehydrate and top-up on sunscreen.
As the meeting came to its natural conclusion, students settled with great anticipation alongside the finishing straight to witness the conventional sprint finales. The 50m and 100m did not disappoint, as they created entertainment and excitement in equal measures, particularly an unusual dipping first place finish by Zach 10SB in his 100m final.
Music blasting out through Mr Cooke's magnificent sound system by the Year 12 team of DJ rotation helped keep everyone entertained and energised. The general vibe was fantastic and everyone left tired, but elated. The icing on the cake was the high praise received from the arena management in relation to the students' behaviour and attitude on the day - a fitting way to end the school year.
Thanks to all Glyn Staff for providing a superb platform for all students to thrive, excel and grow in self-confidence, whether through measured endeavour or sheer sporting excellence. Also, a huge thanks must go to the David Weir Leisure Centre staff for providing a wonderful, friendly service, both before and on the actual day.
Well done to all Glyn students; you did yourselves and the school proud! Looking forward to next year already.
Glyn's Roving Reporter