Posted on: 16/12/2020
Library Congratulations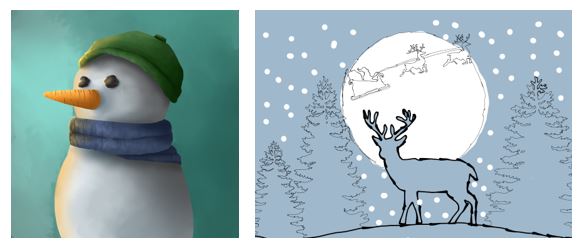 It has been a pleasure to see our Key Stage 3 students focused and engaged in the Accelerated Reader programme this term. Our Year 7 students have achieved 100% in 336 quizzes so far this academic year and have topped our Accelerated Reader Leaderboard with 336 stars. Year 8 students have also achieved a remarkable 195 stars and Year 9 have achieved an excellent 173 stars. It is brilliant that our students are enjoying reading, and there are 12 exceptional students who have read over a million words, and are Word Millionaires!
This half term, the English Department ran a Key Stage 3 Winter Wonderland English Postcard Competition. We received a range of imaginative and thoughtful postcard designs. Congratulations to Tom 9B and Dante 7C who both designed creative and wonderful postcards which capture the essence of a Winter Wonderland. Their winning postcards will be sent to students who have worked exceptionally hard in their English lessons this half term, and to our Accelerated Reader reading champions. Tom's and Dante's winning postcards will be displayed in the LRC window for all to see.
The English and Media Studies Department are incredibly proud of the students at Glyn School; they have worked hard this term. Students throughout all year groups have shared their imaginative ideas and critically explored and responded to the texts that they have studied. We are all impressed with the enthusiasm and dedication they have shown in their English and Media Studies lessons.
Miss Picken, Acting Head of English, Media and Literacy, Lead Practitioner