Posted on: 08/01/2021
Bereavement Support
Winston's Wish - Bereavement Support
Winston's Wish is a childhood bereavement charity that supports children and their families after the death of someone close.
Although they will feel it just as deeply, children will experience and express grief in different ways to adults. The way children grieve will mostly depend on their age and understanding of death, as well as their ability to talk about their thoughts and feelings. This can often make their reactions appear quite different in comparison to how adults may express their feelings. Initial reactions to the news of a death may vary greatly from considerable distress, to finding it hard to speak, or they may not react very much at all. Whilst this can be difficult for adults to understand, it is very normal, and it does not mean that your child does not care or is not impacted by what has happened. It may take children some time to process what has happened and they might need some help in finding ways to express how it feels for them.
How do teenagers react to the death of a loved one?
At this age, children and young people are much more aware of the finality of death and are able to understand it in both a concrete and abstract way. They understand what it will mean for them and their lives, both now and in the long term. Peers and friends become increasingly important in this age group. Some people refer to grieving during this age range as being a teenager with the volume turned up, as many of the 'normal' teenage experiences can become intensified as they navigate their loss in addition to the enormous changes happening within their bodies and at school. It is also possible that you may see less empathy from your teenager. This can be really difficult as a Parent or Carer but, as emotional development is still ongoing, it is not unusual, particularly when in the throes of grief.
Some common reactions you may see:
• Intense feelings of sadness, guilt, anger.
• Feeling worse about themselves.
• Becoming withdrawn or finding it difficult to talk about their feelings.
• Engaging in risk-taking behaviours and testing boundaries.
• Worries around their own health.
• They may start to ask questions around the meaning of life: What's the point? Why did this happen?
What is important is to remain available, but not to push - and to remind children that you are there for them, if and when they need, as well as maintaining the limits that you would normally have in place.
If you are struggling with your own grief, or know someone who might need support from Winston's Wish, please contact their Freephone National Helpline team on 08088 020 021 or email them via ask@winstonswish.org.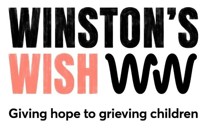 Miss Thompkins, Assistant Headteacher, Designated Safeguarding Lead