Posted on: 15/07/2021
Crime Scene Investigators!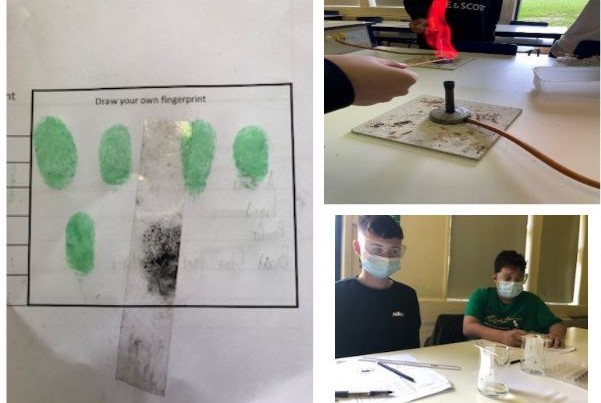 A group of Year 7 students had the opportunity to become Crime Scene Investigators for a day.
Students arrived at the Science labs to find them set up as crime scenes. The students were enlisted to help identify the perpetrator of the crimes from eight suspects by looking at the evidence left behind at the crime scene and through carrying out a series of tasks, which included:
Preparing evidence by looking at fibres using microscopes.
Fingerprint collection using carbon powder and brushes.
Using Chromatography to identify the pen used at the crime scene.
Blood-spatter analysis to investigate how height affects blood spatter.
Chemical analysis of a substance found at the scene, using flame tests.
Students also learnt about and analysed evidence from DNA fingerprinting. We hope that students enjoyed this task, whilst honing their Science skills.
Mrs Dixon and Mrs Poole organised this fantastic activity, which impressed staff and enthralled the students.
Please read the Crime Report by Lucas 7SB, below.
Mrs Thomas, Science, Key Stage 3 Coordinator
--------
Crime Report
The crime took place in S3 near to the Canteen in the Science block. By the looks of this terrible crime, there was lots of blood, dog treats, a stool, chemicals, fabric, a glue stick, scissors and a stand. The stand was positioned next to the victim's head, which was covered in blood. Suspect 4 could have whacked the victim on her head and hurt her. There were also a few dog treats and we learned that Suspect 4 had taken her dog for a walk earlier that day. Other reasons why we know it was Suspect 4 is that the DNA found at the crime scene was the exact same as Suspect 4 and there was fibre which matched Suspect 4. In conclusion, the crime was committed by Suspect 4 because everything adds up scientifically. Case closed.
Lucas 7SB