Posted on: 08/10/2021
Marshmallow Cannons!

KS3 Science Club - Marshmallow Cannons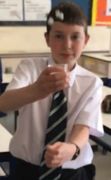 This week, KS3 Science Club members built marshmallow cannons. We used a plastic cup with the bottom cut out and replaced with a balloon. The balloon acts like a rubber band when pulled back, storing potential energy, which then transfers to kinetic energy when you let it go. This sends the marshmallows flying!
Any students in Years 7 and 8 who would like to join in with our experiments are welcome to join us on Monday lunchtimes from 1.30pm in S9.
Dr Thomassen, Science