Posted on: 22/10/2021
Alien's Blood!
KS3 Scientists Create Alien's Blood!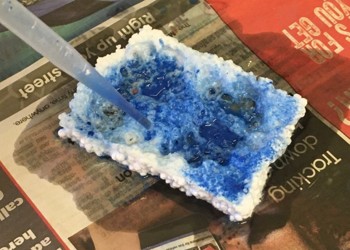 KS3 Science Club went with a Science Fiction theme this week and created an alien's blood. In a chemical based practical, students used acetone, liver salts, chalk and washing up liquid to make the blood; we all reached for our safety glasses! We tested it out on expanded polystyrene and saw the polystyrene collapsing as if the alien's blood was eating through it. Students learnt that sometimes chemicals can react with each other to produce unexpected results, such as the polystyrene collapsing as the air escaped from it.
KS3 Science Club returns on Monday 1 November at lunchtime in S9 and is open to all students in Years 7 and 8. Do join us for fun experiments!
Dr Thomassen, Science