Lead Articles
There are moments in a school year when you feel proud to be Head of School, and some of these moments occurred this week.
The importance of 'Kindness and Community' is pivotal to me in ensuring our students leave us as well-rounded, polite and well-mannered young adults, ready to face the world.
It was brought to my attention that two of our students were walking along Chessington Road and noticed a trip hazard on the footpath. They borrowed a hazard cone from a nearby shop and put it on the footpath so that no one would trip over. I am so proud of these two students for a small but important act they did that afternoon to help others in our community.
I also had the privilege of walking along the Sainsbury's alley as the students were leaving school, and one student picked up litter as he walked.
A Year 10 student offered to accompany a Year 7 boy to Epsom, as he was unsure of the way. The older student had overheard my conversation at the gate with the younger boy and said, "I will take you"; off they went together.
These simple acts of community spirit and kindness show just what a fantastic community we have. I know that these are not unique acts and I know that we have students who exemplify community spirit and kindness every day.
I am, for these reasons, incredibly proud of our students and to be their Head of School.
Jo Garrod, Head of School
---
Open Evening Thanks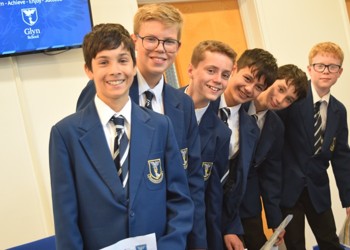 It was wonderful to see families yesterday at our Year 6 into Year 7 Open Evening. I am very proud and grateful to all the staff and current students involved in the event. I would particularly like to congratulate our student speakers, Kye, Jess, Spencer, Luke and Lewis, for their superb speeches at the Headteacher talks. They embodied our shared values and painted an outstanding picture of the school.
There was a palpable buzz about the school thanks to the enthusiasm and passion demonstrated by our Tour Guides which is considered to be the most difficult job of the evening! These students from Years 8 and 9 conducted themselves superbly as they took prospective families on a compreh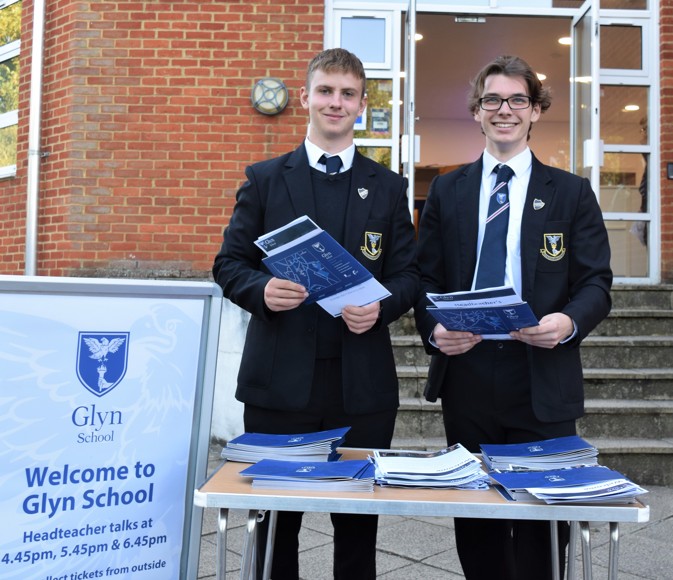 ensive tour of the school site. Many families commented how, thanks to our current students, their experience was second to none.
Staff and students in Faculty areas highlighted our culture of learning, whereby prospective families were able to gain a real feel for life at Glyn School, and it is always such a delight to hear our students articulate so wonderfully their experience of the subject in question.
Although I hope that last year's Virtual Open Evening for our current Year 7 families was useful, nothing can substitute for having guests on site to walk the halls, see the classrooms, taste the food and, crucially, converse with our current students.
I would like to thank our Parents and Carers for allowing your child to help us showcase the school and for delivering and collecting students at either end of the event; we are extremely fortunate to have such supportive families.
With thanks to the whole Glyn School community, prospective families have been able to see what an outstanding school this is.
Mr Lightfoot, Assistant Headteacher
---
Heads of Years - Weekly Reviews
Year 7
It has been another busy week for Year 7 students as they have settled into the second week of their timetables. They have now completed two full weeks at Glyn School, been to all of their classrooms and met all of their teachers. They are looking very much at home now and are enjoying the new experiences. Year 7 students have had CAT4 tests today and will take GL progress tests on Monday and Tuesday. Trials for football and rugby teams have been completed and the selected students are looking forward to playing their first fixtures representing Glyn School. Details of other extracurricular clubs that Year 7 students can join will be available shortly.
Mrs Regan, Head of Year 7
*****
Year 8
Students have now completed almost three weeks, and every day brings another highlight. It really feels like traditional schooling has returned. Having been rather confined to their bubble last year, Year 8 students have noticeably grown in confidence as they move around the school site for their lessons this year. I was particularly proud of Year 8 students yesterday at Open Evening when they acted as Tour Guides for prospective families; they were fabulous and enthusiastic ambassadors for the school. We are looking forward to connecting with families at the Meet the Tutor evening in October - details of this will be sent soon.
Mrs Fairbrother, Head of Year 8
*****
Year 9
Year 9 students have had another great week as we make good headway through the first half-term. I have been impressed with their efforts in their subjects, and have been receiving many positive emails from staff members echoing this sentiment, too. It is lovely to see students working in Faculty areas again, and the lively atmosphere in the DT classrooms, the Science labs and the Drama and Art studios reflect the students' enjoyment to be back in these environments, too! Keep up the great start, Year 9.
Miss Seal, Head of Year 9
*****
Year 10
Year 10 students have continued with their positive start to the year. Drama students have been 'thrown back into the deep end' when they were tasked with performing a scripted piece this week in preparation for a practical exam later in the year. The Year 11 Glyn Rugby team had a great win on Saturday; thank you to Mr Ellis and his coaching team for all of their hard work and excellent coaching. Year 10 students have produced some wonderful artwork which has been entered into the House Art competition.
Mr Beaney, Head of Year 10
*****
Year 11
Year 11 students have really settled into the rhythm of the new school year and are looking smart, sharp and ready to learn. The students are using every available moment at school, particularly during morning Form time where they are using the time for guided revision sessions. These revision sessions will enable students to develop their revision skills over the next few weeks, enabling them to demonstrate what they have learnt in their fast-approaching PPEs which run take place from Monday 1 November to Friday 12 November.
Miss Zimmermann, Head of Year 11
*****
Year 12
This week Year 12 students have been considering their social responsibility and what this can include. Students had an assembly which focused on the power of words and building a positive community. Within Form time, students have discussed the boundaries of emotional health and thought about what a 'healthy' person may look like. Year 12 students continue to make great progress in their chosen subjects and are beginning to plan how to use their study periods effectively.
Miss Clare, Head of Year 12
*****
Year 13
Year 13 students are continuing to work on their Next Steps pathways and have started looking into Substance Abuse as part of PSCHE during Form times. Teachers have noted an increased level of effort by students and a renewed focus in their final year at Glyn.
Mr Bhumbla, Head of Year 13
---