Great Learners
Crime Scene Investigators!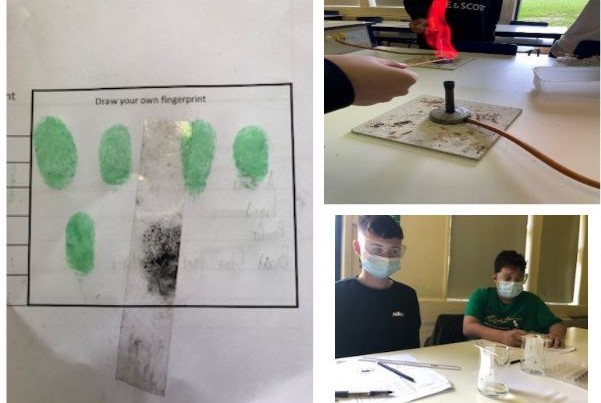 A group of Year 7 students had the opportunity to become Crime Scene Investigators for a day.
Students arrived at the Science labs to find them set up as crime scenes. The students were enlisted to help identify the perpetrator of the crimes from eight suspects by looking at the evidence left behind at the crime scene and through carrying out a series of tasks, which included:
Preparing evidence by looking at fibres using microscopes.
Fingerprint collection using carbon powder and brushes.
Using Chromatography to identify the pen used at the crime scene.
Blood-spatter analysis to investigate how height affects blood spatter.
Chemical analysis of a substance found at the scene, using flame tests.
Students also learnt about and analysed evidence from DNA fingerprinting. We hope that students enjoyed this task, whilst honing their Science skills.
Mrs Dixon and Mrs Poole organised this fantastic activity, which impressed staff and enthralled the students.
Please read the Crime Report by Lucas 7SB, below.
Mrs Thomas, Science, Key Stage 3 Coordinator
--------
Crime Report
The crime took place in S3 near to the Canteen in the Science block. By the looks of this terrible crime, there was lots of blood, dog treats, a stool, chemicals, fabric, a glue stick, scissors and a stand. The stand was positioned next to the victim's head, which was covered in blood. Suspect 4 could have whacked the victim on her head and hurt her. There were also a few dog treats and we learned that Suspect 4 had taken her dog for a walk earlier that day. Other reasons why we know it was Suspect 4 is that the DNA found at the crime scene was the exact same as Suspect 4 and there was fibre which matched Suspect 4. In conclusion, the crime was committed by Suspect 4 because everything adds up scientifically. Case closed.
Lucas 7SB
---
Accelerated Reader Congratulations

Congratulations to all our amazing students in Years 7, 8 and 9 who have scored 100% in their Accelerated Reader book quizzes this year. There are over 1,600 stars on our display board in the LRC. What an incredible achievement! We are so proud of you all. Year 7 took first place, with students taking 2,525 quizzes in total, achieving 100% in over 800 of those. There were some particularly outstanding individual performances, too, from the following students:
Year 7 - Thas 7B passed 102 AR book quizzes.
Year 8 - Shaheer 8M passed 76.
Year 9 - Noah 9D and James 9A passed 27.
Well done to all students who have a star on the Accelerated Reader board in the LRC.
Miss Phillips, English, Key Stage 3 Coordinator, and Mrs Woolridge, Study Skills Director
---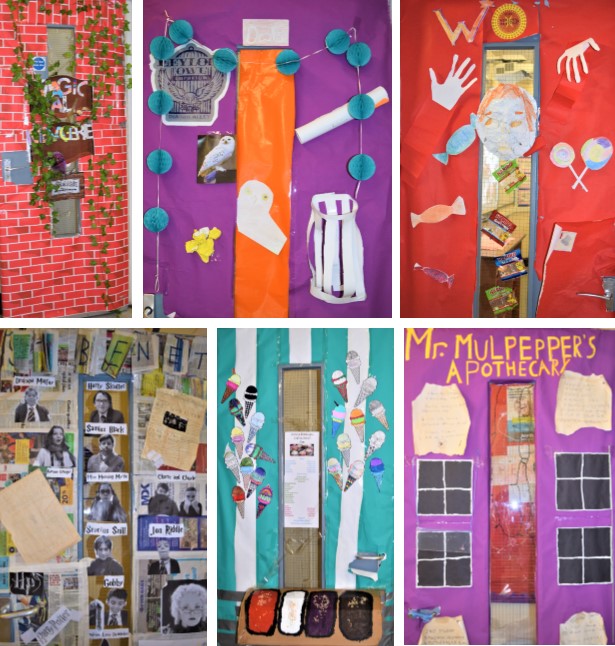 Bloomsbury Diagon Alley School Competition - Prize Winners!
It was no surprise to Mrs Woolridge and I that our incredible Year 7 students swept the judges of the Bloomsbury Diagon Alley School competition off of their brooms with their fantastic transformation of the MFL block into Diagon Alley.
We received the following message from Bloomsbury:
"Thank you so much for sending in your entries for the Diagon Alley School Competition! We absolutely loved your entry; it really did look WANDerful! I hope you all enjoyed taking part.
I am happy to confirm that you are one of our runners up.
Congratulations! Your school will receive:
The Hardback boxset of the Harry Potter series.
Hardback illustrated editions of Fantastic Beasts and Where to Find Them, Quidditch Through the Ages and The Tales of the Beedle and the Bard."
Well done again to all Year 7 Tutor groups for investing time and effort into producing such magnificent displays!
Have the best summer.
Miss Phillips, English, Key Stage 3 Coordinator, and Mrs Woolridge, Study Skills Director
---
Business Studies Students Get Creativ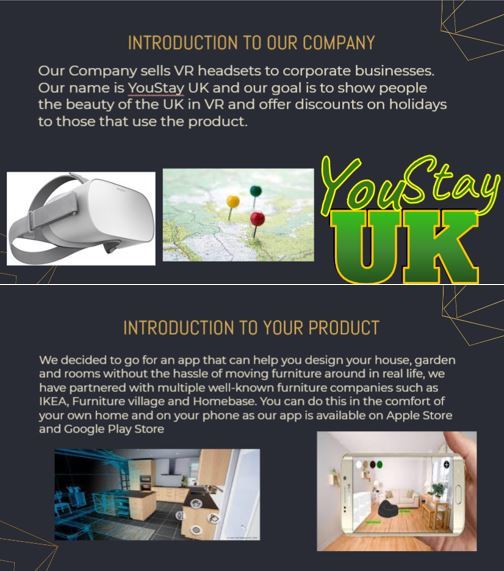 e!
The end of the Summer term presents a great opportunity for our students to reflect on what they have learnt in their first year of studying Business Studies. Enrichment week, in particular, affords us the opportunity to set activities which apply practical skills to students' subject knowledge.
For this year's project, we set Year 9 Business Studies students the task of coming up with a creative solution to a real-life problem - rather like 'The Apprentice', by minus Lord Sugar! We received some excellent ideas from the students, including a VR football experience, an interior design App and movie-based theme park.
As you can see from the images, the students were very detailed in coming up with their unique solutions and really invested themselves in the activity. The following students deserve particular praise for their outstanding projects, as judged by Mr Day, Mr Meyer and Mr Sayers:
Tauseef 9SB, Joshua 9C, Oliver 9A, Leiran 9B, Toby 9D and Dylan 9A.
Well done to all Year 9 Business Studies students!
Mr Day, Business Studies, Economics