Enrichment
Wimbledon Ball Boys Congratulations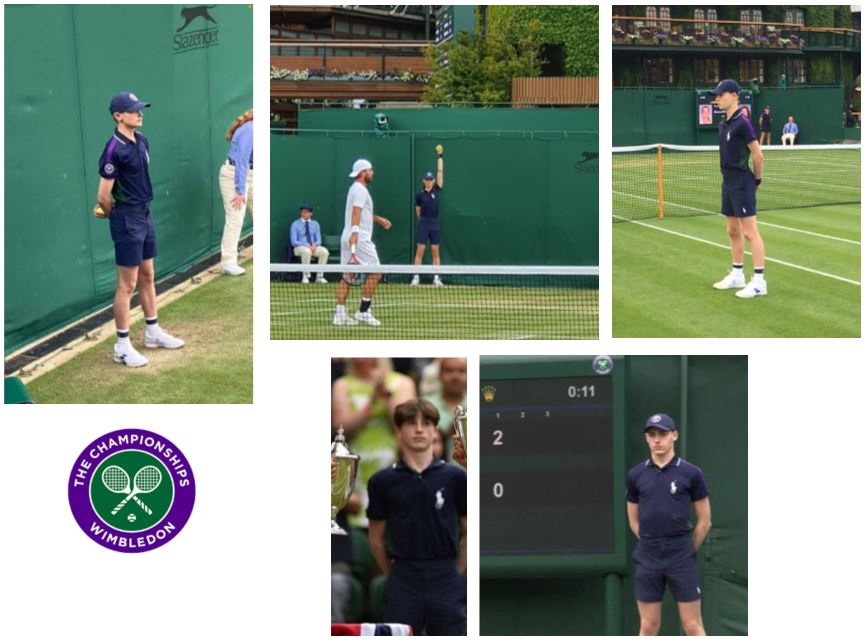 In 2020, the Championships Wimbledon was cancelled due to the pandemic, which meant that our successful Wimbledon Ball Boys missed the opportunity to serve the professional tennis players. It was therefore a pleasure to see Glyn School students taking part in this year's Championships. I had the privilege of visiting Wimbledon on the first Friday of the tournament and was able to see our students in action and to hear that they were all doing an excellent job.
Congratulations to the following students who acted as Wimbledon 2021 Ball Boys:
Adam 12B, Findlay 10A, Archie 11C, Finlay 11D, and Henry 10SB.
The students can be very proud of their dedication, commitment and hard work during many months of training sessions. During the tournament, Ball Boys and Ball Girls worked as a team of six, operating the ball safely around the court. Finlay and Henry were very fortunate to be placed in the same team. Adam 12B had the honour of being selected as a Ball Boy for the Men's Wheelchair Final on Court 3, and his team were present for the trophy ceremony. Adam was also awarded with the ultimate prize of being selected to form the Guard of Honour for the Men's Singles Final on Sunday.
Unfortunately, Elliott 12D missed out on this year's Championships, but showed a great deal of maturity and professionalism in dealing with the disappointment, and he deserves a special mention.
The Wimbledon Ball Boys can be very proud of their achievement and performance during the Championships.
Mr Churchill, Acting Assistant Director of Sport
---
Duke of Edinburgh Gold Award Expedition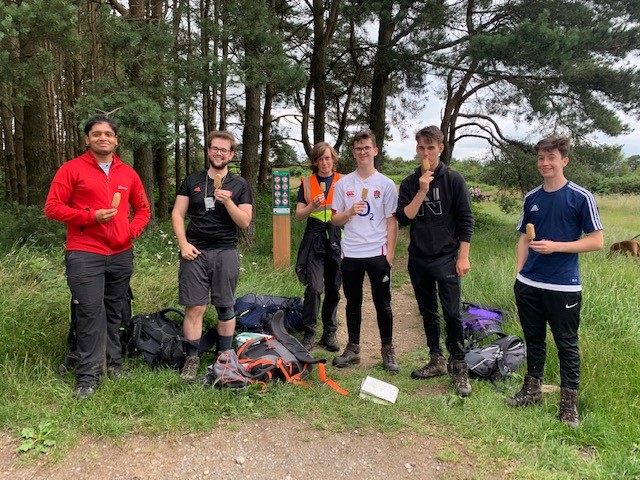 The Duke of Edinburgh Gold Award students had another successful expedition last week. The qualifying expedition took place in Ashdown Forest, West Sussex, which is an ancient area of open heathland 30 miles south of London.
The students did exceptionally well throughout the expedition, coping with changing weather conditions and varied terrain, whilst working fantastically well as a team, helping each other and keeping moral high throughout. The students were especially motivated to keep to their planned timings in order to get back home in time to watch Sunday's UEFA final!
The students and staff would like to thank Ms Wilson-David for organising and planning the trip, with the help of Mark Hedgewood from Learn Outdoors, and supported by Miss Piper, Mrs Hammerton, Mrs Mabbott, Mr Sidhu and myself.
Well done to all six students for completing the Gold expedition in such a positive way.
Miss Hinchcliffe
---
A Poem for Students
Ms Cutrufo, MFL, has written a wonderful poem for the students in recognition of a difficult year. We would like to share this wonderful poem with our families:

You made it through when your school was shut,
and when you were asked to adjust.

You made it through with time on your hands but nowhere to go,
No friends to meet, no balls to throw.

You made it through with that mask on your face,
back through those gates and into school with grace.
You kicked the ball at lunch time again, a laugh, a chat, a friendly face,
Your blazer on, tuck in the shirt, sit up and listen and embrace.

Time was filled again,
with masks trapping your breath, wake up on time, don't be late!
Where is my homework? I need a pen! Yes, football practice again! It all began.
Your days are busy, they have a schedule, it all makes sense, there is a plan.

You embrace, you amaze and you smile back at that friendly face,
You achieve and you persist and you enjoy those bustling days.

Now summer has come, so we wait, for you again to walk through those gates.
when you will listen and you will write,
you will laugh and you will smile,
you will learn and you will thrive.
---
A Celebration of Creative Arts Video
Whilst this has been a testing year for everyone, it is often through difficult times that people find some solace through creativity and historically produce their best work. Our students have certainly produced some incredible work this year across the Creative, Performing Arts and Technology Faculty. If you have not yet watched the Creative Arts video which was launched last week, I hope you will find a moment to enjoy it.
The Creative Arts Evening at Glyn School is a real highlight in the school's annual calendar. Not only is fantastic Art and Design Technology work on show, but the evening sees fabulous Music and Drama performances from our students, all topped off with delicious canapés made and served by the students of Food Preparation and Nutrition. It is a brilliant celebration at the end of a year's hard work. Whilst this year we were unable to host an on-site event due to Covid regulations, the Creative and Performing Arts and Technology Faculty are not easily defeated. It gives me great pleasure to share this celebratory video with you, so that you too can commend the superb efforts of our creative students. Enjoy!
***Please click on the image below to watch the video***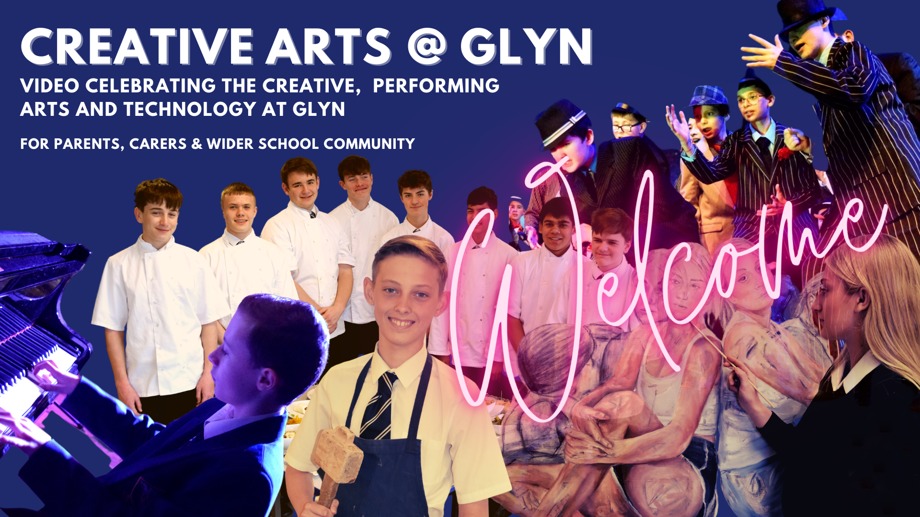 Miss Gascoigne, Head of Creative, Performing Arts and Technology