Sports
Sports Days Review
Friday 9 July saw Year 7 students attending their very first Glyn School Sports Day, albeit a different experience than we had hoped for them.
With light clouds looming overhead at Priest Hill and humidity to match that of the Spanish foothills, the scene was set. The Opening Ceremony at 9.15am was a true spectacle, as the PE staff welcomed students to the venue ahead of their events. Each event kicked off at 10.00am with a plethora of activities taking place simultaneously on the site. Students participated in cricket, softball, track and field events and the infamous (and arguably the most popular event) tug of war. Students demonstrated a high calibre of ability across every event. With homeruns being scored by the handful, track athletes putting Usain Bolt to shame, and cricket matches worthy of a spot on prime-time television, the day was turning out to be a momentous occasion. The afternoon saw the arrival of the finals in each event and the highest quality of sportsmanship shone through.
Year 7 Final Standings:
1st – Bourne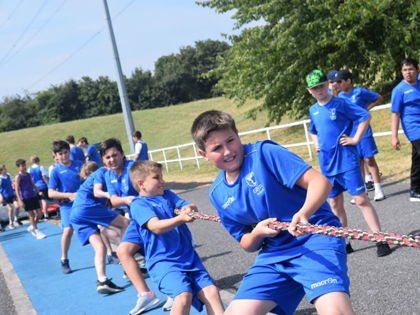 2nd – St Benet
3rd – Merton
4th – Abbey
5th – Tudor
6th – Carew
7th – Derby
8th – Oaks
We must make a special mention of the two Oaks House students who represented the whole of their Form and competed in every event; a truly heroic effort!
Year 8 Sports Day
Following the heartache of the Euro 2020 final Sunday night (unless you are Italian, of course!) there was no time to lament as the Year 8 Sports Day on Tuesday was of equal importance.
The lions of Year 8 turned up in their droves to represent each House on an historic occasion. A slight re-shuffle from Friday's layout saw cricket and softball kicking the day off. The level of competition was as high as ever and, with Mr Cooke belting out the tunes from the pavilion, the atmosphere was described as "electric". Students and staff wore smiles on their faces all day and the arrival of the track and field events only fuelled the enjoyment had by all. The quality of sport and level of effort across all events was greater than ever. As the sun shone brightly, the day came to a close with the final track events being watched by all students, which generated a great buzz.
Year 8 Final Standings:
1st – Carew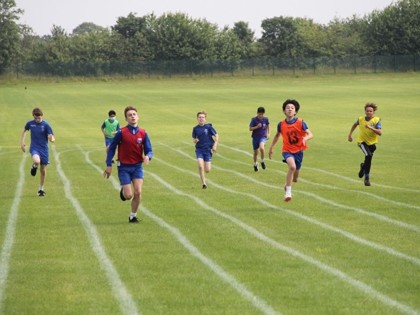 2nd – Oaks
3rd – Merton
4th – Tudor
5th – Bourne
6th – St Benet
7th – Derby
8th – Abbey
The PE staff would like to thank all those who helped on both days, including Sixth Form students and members of staff. The feedback from both days has been exceptional and, following what has been a challenging year for sport, to be able to put together a Sports day which the students enjoyed as much as they did is testament to the Glyn School community and spirit.
NB. We would like to assure all students that, in fairness to those students who were not able to take part in the Sports Days due to having to self-isolate, the Year 7 and Year 8 Sports Days results will not count towards the Victor Ludorum trophy.
Mr Trusler, PE
---
English Schools' Football Association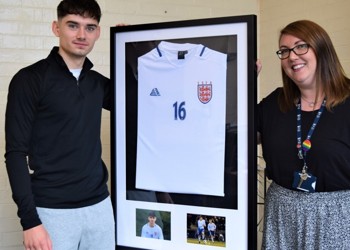 (ESFA) U18 England Shirt for James Dickson
Former Glyn School student James Dickson (Glyn 2013 - 2020) this week presented the school with a framed England shirt, having represented his country at ESFA U18s. James represented Glyn School, Surrey Schools and Dorking Wanderers before his selection to the ESFA U18 England Squad in 2019.
James will be taking up a place to study Sports Science at the University of Surrey in September 2021, whilst continuing his football career alongside his studies; we wish him every success in both.
Miss Thompkins, Assistant Headteacher, Head of Sixth Form
---