Current Apprenticeship Opportunities, Webinar Links and More
Rawlinson & Hunter LLP - AAT apprenticeship Programme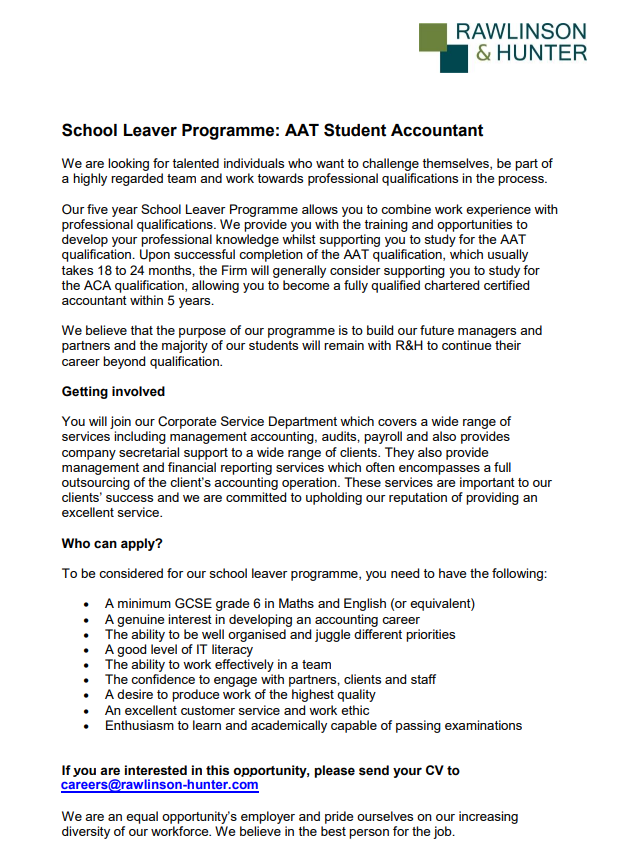 ---
Tax School Leaver Apprenticeship Programme at BDO
If you would like to learn even more about our apprenticeships and application process, please see below for some helpful links and information below. In addition, individuals from the Guildford Private Client Services team would always be happy to chat through the opportunity locally.
Tax School leaver career site page: Tax School Leaver Apprenticeship Programme at BDO
BDO Hive, school students can sign up and speak to mentors https://bdo.connectr.co.uk/bdohive/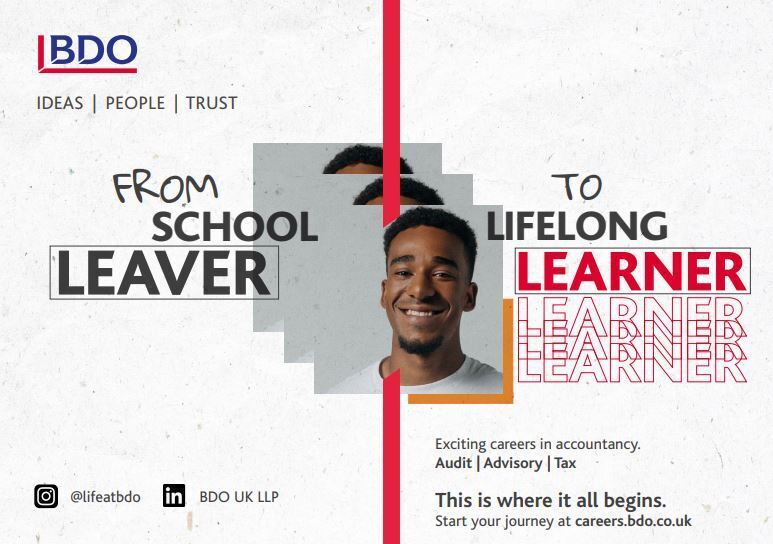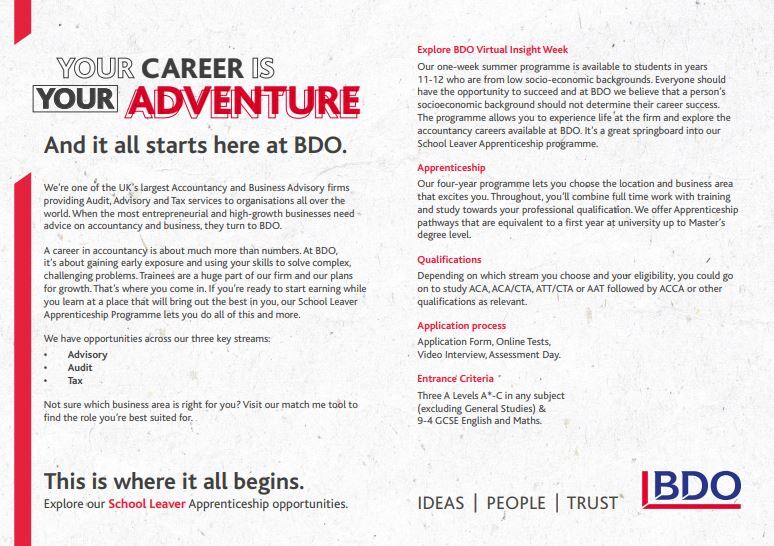 ---
Fidelity International
Please click on the link below to access information if you are considering a career in financial services.
Fidelity offer some great apprenticeships in London and Surrey.
Applications are open now for September 2023 roles.
Please click on the image to access the current Newsletter or follow this LINK to access the website.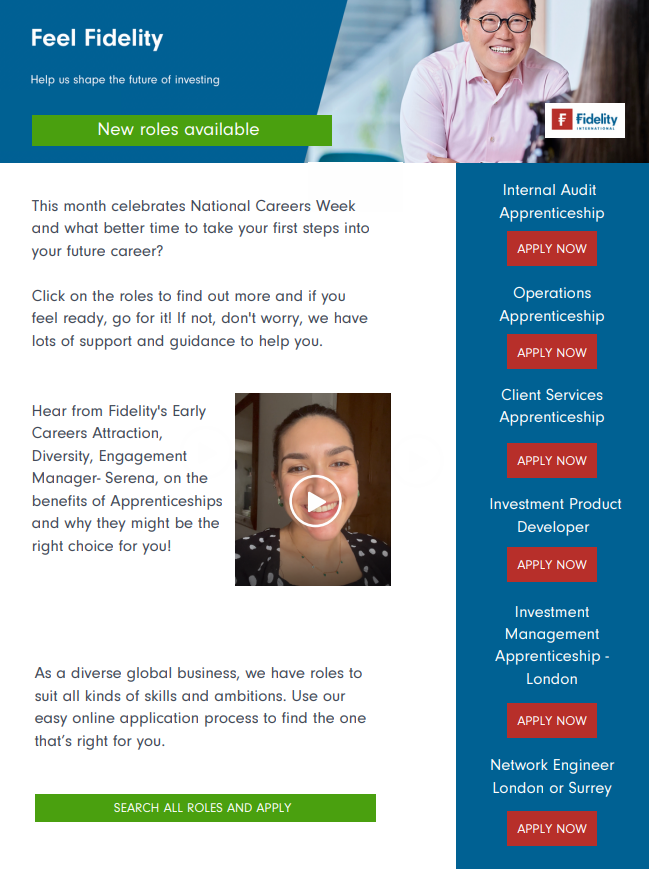 ---
Apprenticeships within RAF Logistics
Applications open for logistic apprenticeships with the RAF. Become an apprentice Chef, Driver, Mover, Supplier or Air & Ground Steward.
The Royal Air Force offer an exciting range of apprenticeships that give you opportunities that you won't find in any other career.

With logistics vacancies available across England in roles such as a Chef, Mover, Driver, Supplier or Air & Ground Steward, the RAF can provide an exciting career for apprentices who want to be a key part of the team that keep the RAF moving.

Voted as one of England's Top 100 Apprenticeship Employers (2022), the RAF offer the very best training, a chance for apprentices to travel the world, play sport and perform an important role in the RAF, whilst also gaining a qualification and getting paid to learn.

Find out more about the amazing apprenticeships available and how you can apply by registering for our webinar or exploring the website below.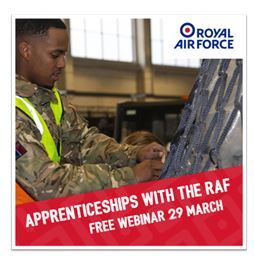 Join the RAF Logistics webinar
Join apprentices & colleagues from the RAF Logistics team on Wednesday 29 March between 3:00pm - 4:00pm to find out more about the different roles available, how to apply and what it's like to be an apprentice with the RAF.
Visit our website
Explore the different roles available within logistics in the RAF and find out more about how to apply by visiting our website.
---
Police Constable Degree Apprenticeships with The Met
Join this exclusive webinar to find out more about the exciting Police Constable Degree Apprenticeship programme with the Met Police. Hear from The Met to understand more about the apprenticeship and how to apply.
Tuesday 21 March, 3pm - 4pm
To register, click
here.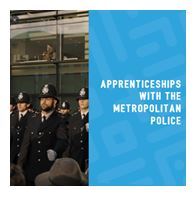 ---
Upcoming Webinars and Apprenticeship Opportunities
Want to find out more about Life at Deloitte as an Apprentice?
You won't want to miss out on this free insight webinar in partnership with Deloitte on the Tuesday 25 April 2023. Hear from current apprentices as they share their insights on apprenticeships at Deloitte and get an overview about how you can start your own apprenticeship journey at Deloitte!

On: Tuesday 25 April 2023 at 6.30 - 7.15pm
For: Students and parents of those in years 10 to 13. Careers leaders and teachers are welcome to join.

Explore opportunities with Zurich
Location: Nationwide
Deadline: Sunday 19 March 2023
Latest opportunities: Opportunities for students interested in IT, Marketing, HR, Customer Service, Insurance, Underwriting and Claims. Various apprenticeships from Level 3 - Level 6.
Explore opportunities with AWE
Location: Nationwide
Deadline: Ongoing
Latest opportunities: Work to support the defence of our country. Opportunities for students interested in engineering, physics, environmental sustainability, and nuclear energy.
Explore opportunities with bp
Location: Nationwide
Deadline: Ongoing
Latest opportunities: For students interested in Marketing, Operations, Business Sales, Tech Solutions and Product Design. Degree apprenticeships available in Business Management and Sales.
Explore opportunities with National Audit Office
Location: Newcastle and Greater London
Deadline: Ongoing
Latest opportunities: Begin your accountancy career on the Apprentice Accountancy Scheme 2023
Explore opportunities with Rolls-Royce
Location: Nationwide
Latest opportunities: Engineering, Manufacturing, Software Engineering, Digital & IT, Electrical & Electronics, Supply Chain, Nuclear Engineering, Finance, Project Management, Commercial, Materials Engineering, Non-Destructive Testing, Nuclear Business, Aerospace Services, Marketing, Quality Management apprenticeships
Explore opportunities with PwC
Location: Nationwide
Latest opportunities: For students who want to kick-start their careers in Business and Management Consultancy, Banking & Finance, Audit, or Technology. Year 12 work experience opportunities available nationwide.
Explore opportunities with Lloyds Banking Group
Location: Newcastle and Greater London
Deadline: Sunday 9 April 2023
Latest opportunities: Are you interested in making a real impact in banking and finance? Apprenticeships are now open across Audit, Commercial Banking, Corporate Treasury, and more!