Overview
Our desire is to educate all of our students to the maximum of their potential. This means offering a curriculum that is fit for this purpose. At Glyn School we seek to inspire our students not just academically, but as healthy, well rounded young people who will contribute positively to the society they will live and work in as young adults.
Intent, Implementation and Impact
Glyn School's curriculum is organised and mapped to support the student's progress and profile. Whilst a curriculum has to be financially sustainable, we ultimately make all of our curriculum choices based around what we feel is in the best interests of the young people that attend Glyn School. Attainment and progress in English, Maths and Science significantly impact on the life opportunities of young people in the UK – therefore we ensure that our curriculum allocation reflects the value and importance of these subjects. A significantly influential factor on a student's progress is teacher contact time: in these three subject areas we ensure there is as much teaching time as possible to support the student's progress.
At Key Stage 3, all students are able to sample the diverse range of subjects at Glyn School, and make GCSE Option choices at the end of Year 8. Within the option choices, we do encourage students to ensure they select an appropriate range of subjects, however we do not impose or force students to take the EBACC or any subjects they feel will not be appropriate for them; one of our core values of 'enjoyment' alongside striving for a love of learning, means we feel students will make more progress if they are studying subjects they enjoy and value rather than following curriculum pathway not suited to them. The strength of this approach is born out by the strong academic outcomes of our students, notably progress, in both Key Stage 4 and Key Stage 5, by the large numbers of students who choose to join our Sixth Form, and by the very high numbers of students that take up places at university or higher level apprenticeships.
Over recent years we have increased the provision of Religious Studies at Key Stage 3 and 4 and do include mandatory elements of this within the curriculum; we feel strongly that this subject area lends itself to developing the mindset of young people and evokes discussion and challenge that ensures our students consider the values of the wider community. An outstanding school is one that supports students well academically – an exceptional one, in addition to this, will support young people in becoming thoughtful, resilient, considerate, well rounded young people – through our Religious Studies and PSHCE curriculum our students have support in achieving this goal.
At Glyn we have also increased the provision of Games / PE throughout the school curriculum. We aspire for our students to be of healthy body and mind, and that they embrace self-respect and value themselves as individuals.
We believe that it is vitally important that our students are equipped with the right practical and emotional skills to allow them to make the most of their opportunities and responsibilities and to flourish in the 21st century. To support this aim we have a comprehensive program for the teaching of personal, social, citizenship, health and economic (PSHCE) education, and Careers guidance. This program is delivered through a varied model of form time activities, Year and House assemblies, dedicated days where the normal curriculum is suspended, and within the schemes of work of relevant subjects.
• Intent
Our vision for our curriculum is a simple one: we seek to inspire our students not just academically through the value and beauty of a subject, but as healthy, well rounded young people who will contribute positively to the society they will live and work in as young adults.
The broad context of students attending Glyn School means we firmly believe that our curriculum should be financially sustainable and shaped in a way that is right for the young people who attend the school. Our curriculum allows our students to thrive academically, but also have exposure to the 'wider world' encouraging both respect and tolerance. The School's Leaders are very clear the direction and objectives of the curriculum and have a common purpose of ensuring our students learn, achieve, enjoy and succeed. Heads of Subject are passionate about their subject areas and through the Year 7 Curriculum and GCSE Options process ensure the 'why' is high profile and carefully considered by students.
This being the case ensures students choose subjects in which they can cultivate a love of learning and ultimately enjoy being taught a subject. We know when our students enjoy their learning they make much greater progress - to this end we shape a curriculum that gives them freedom to choose what is right for them.
•Implementation
Our middle leaders are passionate about their subject areas and plan lessons around a simple ethos that the classroom is an exciting place to be. We adopt a collaborative approach to our curriculum planning and a middle leaders actively look to involve Heads of Faculty/Subject, Lead Practitioners and wider support from the MAT to design and implement schemes of learning. Through our Learning and Teaching sessions teachers are supported to incorporate the L&T 7 into units of work and through our comprehensive CPD programmes, teachers receive support and developmental guidance that ties together elements of the planned curriculum with effective teaching practice. Subjects have designed and implemented their own marking and feedback policies to order to provide effective and meaningful feedback that supports progress. Our changing curriculum is where the Glyn L&T 7 become great subject specific pedagogy. Great subject pedagogy, along with high quality instruction are proven to be the two greatest teaching tools which secure exceptional student outcomes ('What Makes Great Teaching?' Coe, Aloisi, Higgins & Major). Therefore, the challenges and choices our changing curriculum presents us, is a critical focus. In May 2018, we launched the Curriculum Framework Document which will continue to frame our professional dialogue around the choices we make in our curriculum areas.
•Impact
Everything we do at Glyn School is focused on ensuring we are doing the very best for our students and striving to model the highest standards of professional practice. Our Quality Assurance process (Quality of Learning) is designed to support professional development, student progress and ensure professional accountability. QA process covers the following areas:
· Lesson observations
· Book Look/Folder Look
· Class Progress reviews
· Learning Walks
· Student voice
Over recent academic years, teacher professional learning and CPD sought to make us increasingly evidence informed and by definition our curriculum planning and design has sought to incorporate features of what we understand to be 'great teaching'. This has led us to fundamentally re-examine our understanding of learning, which in turn shaped our view of what makes 'Great Teaching' at Glyn School. This guided the development of the new Glyn L&T 7 Principles that are, over time, being incorporated into the the curriculum as we constantly strive to improve, develop and enhance effective learning and teaching.
Curriculum Development
Glyn School is unashamedly tenacious in supporting colleagues to deliver dynamic and engaging lessons. We recognise however that evaluation and feedback are intrinsic elements in identifying learning gaps to incorporate in subsequent lessons.. Providing colleagues with opportunities to give clear, effective feedback and plan high quality lessons is imperative. To this end, Glyn School has key formal assessment points for each Year group throughout the year to allow for bespoke marking and feedback in each individual subject area. Assessment material is filtered through the Extended Leadership Team and marking and moderation meetings are built in as directed time on the school calendar.
Learning and Teaching
Values
An understanding that 'Great Teaching' transforms lives
Students get one, life changing chance at education, so we must make every lesson count
Exceptional progress and outcomes are secured by effective, evidence informed teaching, which maximises impact in the precious time we have
Learning is hard and is secured in the long term
Great learning takes place when we aim to reduce cognitive load, build stronger, longer lasting memories and teach for transfer so learning is flexible
Expert teachers scaffold students' internal intellectual architecture to build their self-efficacy and self-regulation
Commitment
Over the last academic year, teacher professional learning and CPD sought to make us increasingly evidence informed.
This led us to fundamentally re-examine our understanding of learning, which in turn shaped our view of what makes 'Great Teaching' at Glyn School. This guided the development of the new Glyn L&T 7 Principles.
Each principle is underpinned by evidence of its effectiveness. "We define effective teaching as that which leads to improved student achievement using outcomes that matter to their future success." (''What makes great teaching?' Coe et al 2014.). These principles are designed to support our understanding of why we should develop our practice in the most effective way. "We have far too many 'how to' guides in schools but far too few 'why to' guides" (David Didau).
They are not a checklist for a lesson or things we are required to 'show' we are doing. "Teachers need to understand theory and evidence of learning and make informed judgements, not comply with rules" (David Weston). As a set of principles, they should be applied to the context of our own classrooms. It is critical that we ensure they are shared, understood and embedded in a meaningful way.
Should you wish to explore some of the language around Learning and Teaching we use at Glyn School, please consult the L&T Glossary.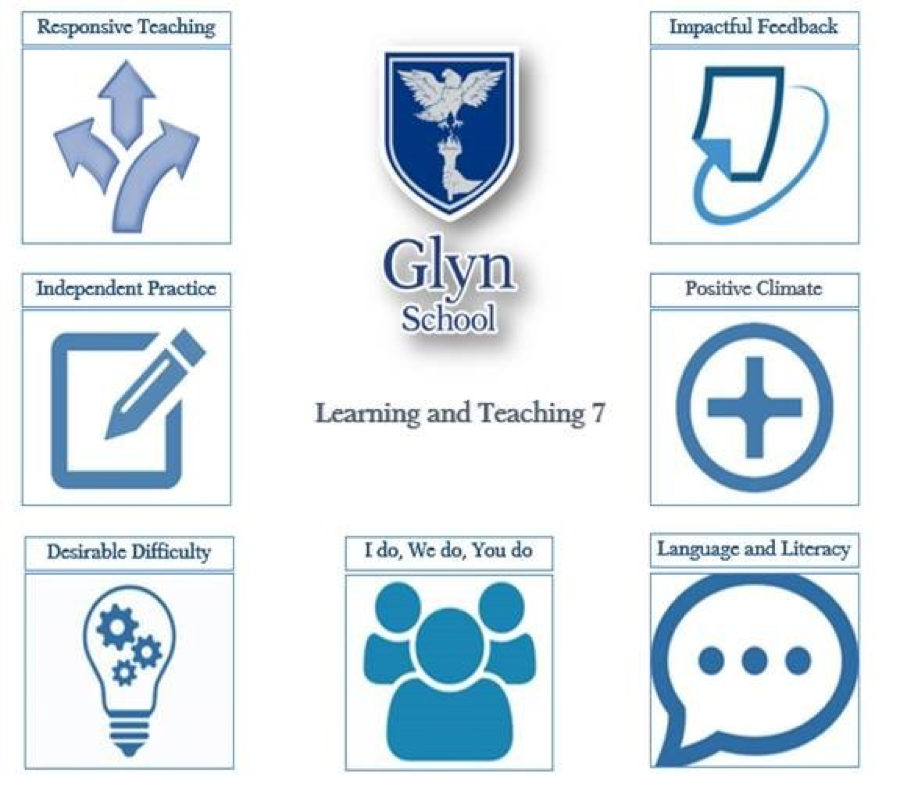 Promoting British Values
Glyn School is committed to serving its community. It recognises the multi-cultural, multi faith and ever-changing nature of the United Kingdom. It also understands the vital role it has in ensuring that groups or individuals within the school are not subjected to intimidation or radicalisation by those wishing to unduly, or illegally, influence them.
It follows equal opportunities guidance which guarantees that there will be no discrimination against any individual or group, regardless of faith, ethnicity, gender, sexuality, political or financial status, or similar. Glyn School is dedicated to preparing students for their adult life beyond the formal examined curriculum and ensuring that it promotes and reinforces British values to all its students.
Glyn School looks to equip students with the ability to understand their place in a culturally diverse society and by giving the opportunities to experience such diversity within the school community. Students benefit from a number of international visitors, including students from other continents and cultures. Additionally, students are actively encouraged to share their faith and beliefs within the school and celebrate festivities throughout the calendar year. The Religious Studies curriculum, which is compulsory for all students up to the end of Key Stage 4, provides a broad and balanced education on a range of faiths, religions and cultures.
Through our SMSC education we help students to develop their self-knowledge, self-esteem and self-confidence; distinguish right from wrong and to respect English law; encourage students to accept responsibility for their behaviour, show initiative and contribute positively to society; enable students to acquire a broad general knowledge of, and respect for, English public institutions and services and to appreciate and respect their own and other cultures.
Glyn School strives endlessly to ensure that its students leave with the strongest foundation of values upon which to build a successful life and a successful contribution to our society.
Literacy Across The Curriculum
Good literacy skills are a key factor in raising standards across all subjects.
Language is the main medium we use for teaching, learning and developing thinking, so it is at the heart of teaching and learning. Developing skills in literacy is about learning to use language to express, explore and communicate our thoughts, ideas and feelings with others. We do this through speaking, listening, reading and writing and improving literacy means making progress in each of these areas.
Classroom strategies that Faculties employ at Glyn School
Marking literacy in books using the whole school literacy marking guide.
Literacy Objectives in a spread of lessons.
Using subject specific Keywords.
Through the keywords displayed in classrooms.
Technology For Learning
Traditional methods of learning and teaching still have an important place in education and will continue in our school. Chromebooks should be seen as an additional educational tool, a tool to enhance learning rather than replace these methods. This will ensure students' handwriting skills continue to be developed. We truly believe the introduction of Chromebooks and the use of Google suite tools will enhance learning and teaching at Glyn school.
To support our understanding of the Glyn L&T 7 principles and how to blend these with Chromebook and Google tools for teaching, we offer some guidance to unpick each one. This directs you to further information on why each principle promotes 'Great Learning'. These are designed to support your understanding so that you might carefully consider the most effective way to design Learning and Teaching in your classroom. It is by no means an exhaustive list. Each principle is accompanied by Chromebook and Google Suite technology tools which can be used to best enhance their effectiveness. You can begin by exploring this and using the hyperlinks on the icons of the principles, the strategies and the technology tools to find out more about them and their uses.
Careers in the Curriculum
Through the measure of the brand new Gatsby Guidelines (Jan 2018) for all schools, Glyn School ensures that careers is integrated right across the curriculum. It improves aspirations and attainment of students in subject areas in addition to take up and retention rates from GCSE through to A level, if students are aware of the way in which your subject has direct relevance to their career path.
Learning and Teaching is enriched by potential outside professionals and employers that might be used within your curriculum. This could be embedded already through video presentations, alumni, or presentation talks.
Subject teachers also support the school's approach to careers education and guidance. The curriculum offers excellent opportunities for developing the knowledge and skills that employers need and subject teachers can be powerful role models to attract students towards their subject and the careers that flow from it. Glyn School requires all teachers to support the career development of young people in their tutorial role and through their subject teaching, weaving careers education and guidance in to subjects across the curriculum, including PSHCE.