Matched Funding
Did you know that many companies offer their employees Matched Fund Schemes, whereby employers match money raised by a given charity.
For an introduction to what Matched Funding is, please have a look at the national PTA website.
As Glyn School PSA is a registered charity, these schemes are an excellent way of raising additional money for our school. Our Christmas Fayre Event for example, is an ideal time to ask your HR department if they offer Matched Funding and a little bit of your time could raise double the funds for our school.
If you work for an organisation that has a Matched Funding Policy, any money you raise could be matched by your employer. Companies may match the fundraising total for an event, or for the stall that their employee is working on. Usually, the employee will need to supply them with a letter from the organisation detailing the date and nature of the event, together with the total raised.
We understand that the high street banks, building societies, supermarkets and large corporations are likely to do match funding, but these schemes are not exclusive to the major corporate giants. If you work for an independent company, they may be interested in charitable giving through match funding too.
We would be grateful if you could see if your employer has a Matched Funding Scheme, or if they are willing to match fund any of our events. If you can't help out this time, but you know the company you work for has a Matched Funding Policy, please let us know by emailing K.jones@glynschool.org.
Matched Funding could be a really large source of income for us and help us raise money to support and enrich our students experience.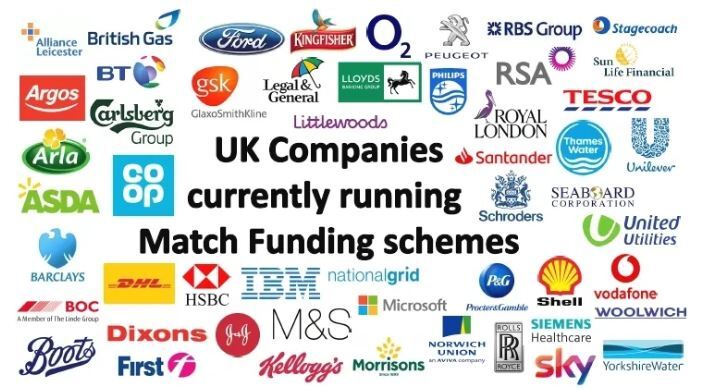 Matched Funding Companies
The following companies have offered Matched Funding in the past. If you or your partner work for one of these companies, or are aware that the company you work for offers a similar scheme, please help the Glyn School PSA to raise much needed funds.
3i
3i Deutschland GmbH
Abbey National
ABN Amro Bank
Accenture
Alfred Dunhill
Alliance & Leicester
Alliance Capital
American Express
Amoco Foundation
Anglian Water
Argos
Arla Foods
ARM Holdings
Asda
ASSEAL
AstraZeneca
AT Kearney
BAA
Bank of America
Bank of England
Bank of Scotland
Bank Of Tokyo
Mitsubishi
Bankers Trust
Barclays Bank
Barclays Capital
Barclays Group
BG Group
BOC Group
Boeing Commercial Airplanes
Boots
Boston Consulting Group
BP
Bradford and Bingley
Bristol
Myers Squibb
British American Tobacco
British Gas
BT
C & A Stores
Cable & Wireless
Camelot Group
Cap Gemini
Capital International Research
Carlsberg Tetley
Cemex UK
Centrica
Chase Manhattan
Citibank Group
Cooperative Bank
Cornhill Insurance
Coutts Bank
Credit Suisse First Boston

De La Rue
Debenhams
Deloitte Consulting
Deutsche Bank
DHL
Diageo
Dixons Group
Dresdner Kleinwort Wasserstein
Eli Lily
EMI Group
Energis
Ernst & Young
Experian
Exxon Mobil
Fidelity Investments
First Bus
First Group
Ford Motor Company
Goldman Sachs
Guardian Royal Exchange
Halifax
HSBC
IBM
IDEO
Industrial Bank of Japan
Invensys
J Sainsbury
Johnson & Johnson
J P Morgan & Co
Kellogg's
Kingfisher
KPMG
Legal & General
Littlewoods
Lloyds TSB
Marks and Spencer
Mars
Marsh & McLennan Companies
McKinsey & Co
Mercury Asset Management
Merrill Lynch
Microsoft
Midland Bank
Midlands Electricity
Mitsubishi
Moody's Investors Services Ltd
Morrisons Group
Morgan Stanley

National Grid Transco
National Power
National Westminster Bank
NCR Corporation
NFC Northern Electric
Norwich Union
O2
Pearson
Peugeot Motor Company
Pfizer
Philip Morris International
Philips
PPG Industries Foundation
PricewaterhouseCoopers
Proctor & Gamble
Reuters
Robert Fleming & Co
Rolls Royce
Royal and Sun Alliance
Royal Bank of Scotland Group
Royal London Mutual Insurance
Royal Sun Alliance
Santander
Schroder's
Scottish and Southern Energy
Seaboard
Shell
Siemens Medical
Sigma Securities
SIT Investment Associates Foundation
Sky Broadcasting
SmithKline Beecham
Southern Electric
Stagecoach Group
Stagecoach Holdings
Standard & Poor's
Sun Life of Canada
Swiss Bank Corp
Tesco
Texaco
Thames Water
The Economist Group
UBS Warburg
Unilever
United Airlines
United Utilities
Vodafone
Warner Music International
William M Mercer
Woolwich
Yorkshire Water