Admissions - Years 7 to 11
You are warmly invited to our
Open Evening for Prospective Entry into Year 7 in September 2023
*Thursday 7 July 2022 from 4.30pm to 7.30pm*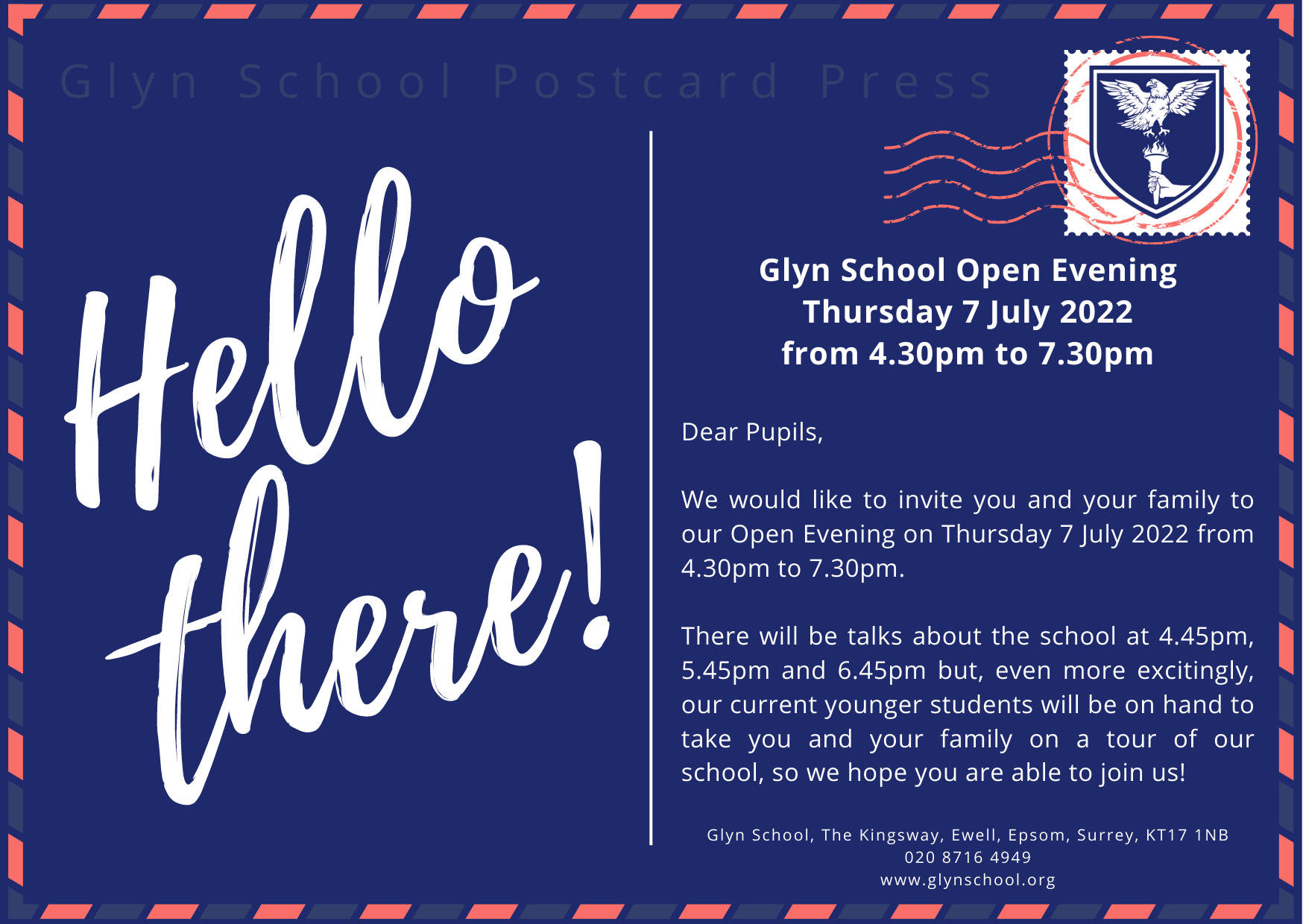 Year 6 into Year 7 Admissions for entry September 2022
To apply for a place in our Year 7 cohort for September 2022, please click on the Surrey Admissions webpage for more information about applying and their application deadlines. School admissions - Surrey County Council (surreycc.gov.uk)
At Glyn School we hope to make your transition from primary to secondary school, or later on as an In Year transfer, as smooth as possible. Below you will find some useful information about the admissions process and links to relevant websites and contacts.
All applications for Years 7-11 must be made through Surrey County Council's Admissions Department. To find up to date information about the school's admission arrangements and details on how to apply, either as part of the normal intake or during the school year, please click on the below link which will take you to the Surrey County Council's Admissions website. Alternatively, you can contact Surrey Admissions on 0300 200 1004 for any queries or a copy of the application form.
In 2012, Glyn School became an Academy and the Multi Academy Trust, GLF Schools, is the Admissions Authority, with Surrey Admissions acting as the coordinating body for the area.
https://www.surreycc.gov.uk/schools-and-learning/schools/admissions
Please click on the Admissions Policies link below for further information regarding our Admissions Criteria. If you require admissions policies relating to previous years please contact admissions@glynschool.org
Only applicants applying under Category 4 'Children of Staff', must complete the Supplementary Information Form, which can be located at the end of this webpage.
Admission Policy 2021-2022 - Change of Notice
This provides notice that the GLF Trust Board has agreed a change to the admissions policies of all schools in the Trust for 2021 and 2022 to reflect that children who have been in state care outside of England,and ceased to be in care as a result of being adopted,must now be given the highest priority in oversubscription criteria, alongside looked after children and previously looked after children.This change comes into effect from 1 September 2021 and amends the admissions policies as already published for 2021 and 2022.
Our Published Admissions Number (PAN) for Years 7-11 is 240.
The below link can be used to find the distance from home to school - this is an approximate indication only.
If you have any further queries regarding admissions to Glyn School please email admissions@glynschool.org or telephone 0208 716 4949.
Furthest places allocated under Category 5 (distance) for the past years of entry are listed below:
| Year | 1 March (National Offers Day) | July |
| --- | --- | --- |
| | Distance in Kilometres | Distance in Kilometres |
| 2010 | | 2.12 |
| 2011 | | 2.60 |
| 2012 | | 2.64 |
| 2013 | | 3.33 |
| 2014 | | 2.70 |
| 2015 | | 2.56 |
| 2016 | | 2.49 |
| 2017 | 2.20 | 2.27 |
| 2018 | 2.26 | 2.40 |
| 2019 | 2.42 | 2.56 |
| 2020 | 2.95 | 3.18 |
| 2021 | 2.379 | 2.40 |
In Year Admissions to Glyn School
Anyone wishing to join Glyn School during an academic year can submit an In Year application via Surrey Admissions. You will need to complete the Surrey CMA In Year application form. Please find the link to more details regarding this process and Surrey's CMA application form: https://www.surreycc.gov.uk/schools-and-learning/schools/admissions/in-year
Once we receive your In Year application form via Surrey Admissions, we will advise them and email the applicant of the outcome. The email we will use is that shown on the application form. Please check junk email boxes regularly in case your email is directed there by your server.
Waiting Lists for Current Year 7-11 Students
Waiting lists are updated annually in the Spring Term. Emails are sent to the email address registered on the Surrey Application form reminding applicants to complete the online waiting list renewal form and the submission deadline. It is, therefore, imperative that you advise the admissions team of any change to contact details and to ensure any emails from Glyn School do not go into junk email boxes, failure to do so may lead to the applicant not receiving notification to keep their child on our waiting lists.
If you have any queries, please contact admissions@glynschool.org
If you would like to reinstate your child's name to our waiting list in the future this can be done through the 'In Year Admissions Process' via Surrey Admissions.
Appeals Process
if you require further information regarding the Appeals Process, please visit our dedicated webpage or follow the link below.