In Memoriam
Our sincere condolences to the families and friends of former students who have sadly passed away:
---
Richard Watson - 2021
Earlier this year we learnt of the death of Richard Watson who was in Abbey House and who left Glyn in the late 1950s. His main interest in school was representing his House in plays.
On leaving school, Richard worked in local government and combined his love of archaeology, architecture and rambling with unstinting support for Ruxley Church in Ruxley Lane, Ewell. In recent years, Richard gave The Old Glynians' Association committee a great deal of help in setting up the annual TOGA dinners.
Obituary kindly written by Hugh Proctor
---
To celebrate the life of Richard Walker
Richar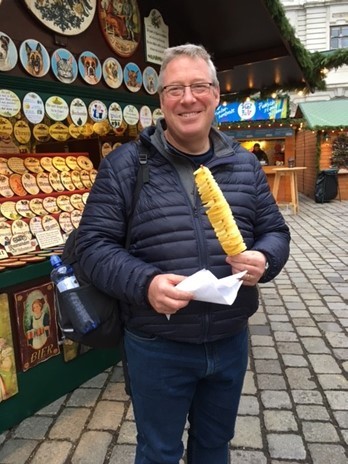 d died very suddenly and completely unexpectedly at home on the evening of Saturday 27 February 2021. His wife Emma was with him.
Richard was born in Epsom and joined Glyn School in 1975 where he was Head Boy in 1981 to 1982 before going to Aberystwyth University where he met Emma. After university, Emma and Richard moved to Worcestershire, creating a wonderful home for their sons Angus and Reuben and their animals. Richard derived enormous pleasure from his home life, spending time with family and friends and taking care of their horses, pigs, sheep, goats and chickens
Richard moved into the ophthalmic industry in his late 20s and forged a very successful career in Sales and Marketing, joining Sterimedix (Redditch) in the 2000s.
His family have set up a tribute page, richardwalker.muchloved.com, and encourage people who knew Richard to visit the site to see and share photos and comments, messages and thoughts about Richard.
In his memory, Richard's family would welcome charitable donations. Richard had been very actively involved over the years and had raised significant sums for two important local charities and his family are keen to continue this tradition. The charities are St Richard's Hospice (Worcester) and The Midlands Air Ambulance Charity. Donations to the charities can be made through richardwalker.muchloved.com.
Raising money for two such important charities that continue to do so much for the local community is one way to ensure that some good will come out of the great sadness felt by his family, friends and colleagues at this time.
The funeral service and committal will be held in compliance with Covid 19 restrictions, which means that only family and very close friends will be able to attend. The services will be live-streamed on Zoom to enable all who would like to join the services to do so. Please check the richardwalker.muchloved.com site for access details to the service.
The funeral will be held on Tuesday 30 March 2021 at Our Lady and St Joseph Church Alcester at 2.30pm, and the committal with be at The Vale, Evesham at 4.00pm.
---
In Memory of Brian Spencer 1922-2021
Class of 1933-38
We are saddened to announce the passing of Brian Spencer, former Glyn School student. Brian was our oldest 'Old Boy' at the time of his death, having attended the school from September 1933 to July 1938.
Brian was born in Leatherhead on 9 January 1922 and continued to live there his whole life. He was enrolled at Glyn School by his father on 12 September 1939 and was officially the '259th Glynian'. Brian's father was a labourer and Brian had his school fees paid for by Surrey County Council (Glyn School was fee paying at the time).
Brian was a keen sportsman and, although he did not excel in the classroom (he came 14th out of 23 in Form IVA in 1935) he did excel on the football pitch. In the 1936-37 Football Season, Brian played for the 2nd XI Football Team; he scored 13 goals that season, including 5 in one away game against Richmond in February 1937, with the Glyn team winning the match 12-1.
After obtaining a London School Leavers' Certificate in 1938, Brian went to work for the Post Office where he worked until his retirement, aside from a six year break between 1939 and 1945 due to his service in the RAF in WW2.
Brian joined the RAF after turning 18 and became a Navigator for 86 and 206 Squadron as a part of Coastal Command. Coastal Command was, at this time, entrenched in a life or death struggle in the Battle of the Atlantic. In this battle, Nazi Germany had declared all-out U-Boat war on the allies and was sinking vast amounts of shipping with the potential of starving Britain into surrender. Brian's role in this struggle was to spot and neutralise U-Boats in his B24 Liberator Bomber aircraft. In one terrifying episode, Brian's plane was shot down in the middle of the vast Atlantic Ocean and, despite having a broken arm, Brian saved the life of a member of his crew, then clung to life in a small rubber dinghy for days at the mercy of an unforgiving sea. Eventually, they were rescued. In September 1944 Brian was awarded the Distinguished Flying Cross for his exploits. At the end of the war, he returned to work in the Post Office, eventually becoming Postmaster of multiple Sorting Offices.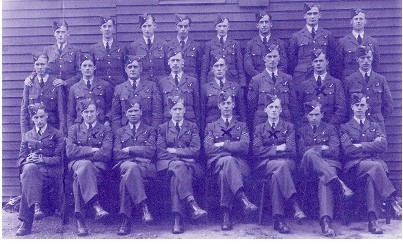 206 Squadron in WW2 - Brian Spencer is believed to be centre left, although this is not verified.
I had the honour of talking with Brian during The Old Glynians' Association (TOGA) 90th Anniversary Dinner, held here at school in The Proctor Hall, in March 2017. A lovely man, and an Aston Villa fan his whole life, all Brian wanted to talk to me about was football. The first question he asked me was if the current Glyn 1st XI were any good, to which I replied that they had just won the Surrey Cup in truly dramatic circumstances. I remember Brian looking slightly disappointed at this news, but then looked at me with a mischievous smile and a twinkle in his eye and said, "I bet they didn't beat Richmond 12-1 away though, did they?"
A true gentleman, who took an active role in school life for a period that spanned nine decades, Brian will be remembered with fondness by all who came across him. In the words of one Old Boy, "Brian is, quite simply, a Glyn Legend."
Obituary kindly written by Mr Summers, Head of History
***
Brian Spencer Further Tribute - written by Roy Betts
A tribute to Brian would not be complete without reference to his love of golf and his long association with Leatherhead Golf Club. This association began in 1933 when Brian became an eleven year old schoolboy caddie at the club. In 1946, on his return from service with the RAF during World War II, the Artisan Section of the club was formed and Brian became its first Secretary. At the end of the 1940s he became a full member. Captaincy of the club followed in 1965, then his appointment as President, first in the mid 1980s and again from 2000 until 2003, the club's centenary year; to commemorate which, Brian wrote a 29 page history of the club. Brian was a talented golfer, playing off a single figure handicap at his best, and won many of the Club's competitions. He was competitive and good company, both on and off the golf course. Although he retired from golf when he was unable to play as he once did, Brian remained a frequent visitor to the club until prevented from doing so by ill health.
---
Peter Nicolle
22 October 1949 – 17 August 2020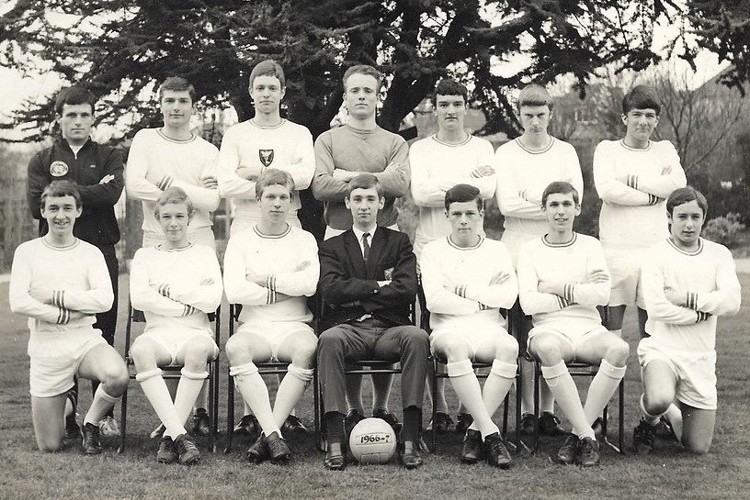 Back row: Dario Gradi, Adrian Webb, Jim Chappell, Mike Parker, Shaun Smythe, Chris Green, Mike Drake.
Front row: Alan Payne, Peter Nicolle, Bill Wallace, Alan Gillette, Chris Porter, Erik Sorensen, Dave Smith.
Peter Nicolle, who attended Glyn School from 1961 to 1968, died on 17 August 2020 following a 12 month illness with oesophageal cancer.
Peter was born in Greenford, Middlesex, to Jack and Jean in 1949. He had two younger brothers, Richard and Ian. When Peter was six, the family moved to Ewell.
Peter attended West Ewell Primary School and then went on to Glyn in 1961, where he was in Abbey House. He had a bright, lively personality with a keen intellect and was selected to take his GCE's 'a year early'. This brought him up into the class of '68 where he formed firm friendships with those who played for the school's football teams where, though he was slight of build, he became a deft passer of the ball and represented all three of the school's senior teams. Peter played at right back for the first team which was coached at the time by Dario Gradi. Some of that team are still in touch and Mike Parker (our goalkeeper) vividly remembers the time that Peter scored an own goal - his friends never let him forget it!
He was also a gifted actor, putting in a superb and all too convincing performance in one school play as the virtuous Queen Hermione suspected of infidelity by King Leontes in "A Winter's Tale". This is a skill he seems to have passed onto his older son David, who went on to achieve acting success on the West End stage in 'The Graduate' and 'Imperium'.
Following school, he went to Lanchester Polytechnic Coventry, where he studied business. After graduating, he joined Rank Xerox in the sales and marketing department. Peter continued to work as a sales executive for different companies throughout his career. He retired in 2016.
Peter married Olwyn in 1972 and they had one son, David. Tragically, Olwyn died of cancer when she was 40 years old. He later married Margot in 1993 and they had one son, Jack.
Over the last 10 years Peter was part of a regular Class of '68 walking group which met up twice a year to relive old times, exercise across the Chilterns and share a pint or two. We will all miss him greatly. A member of the group said: "Perhaps our greatest insight into Peter was the manner in which he faced the difficulties of his final illness and its inevitable outcome. He was almost always positive and upbeat, without regret, and remained interested in everything and everyone about him to the end."
In January, Peter's ambition was to live to see the Grand National; sadly that did not take place, but his love of the horses kept him alert, if not rich, over his final weeks in the care of David and his loving neighbours.
He is survived by Margot and his sons David and Jack.
Obituary compiled by Roger Cornish, with help from Richard and David Nicolle and the Class of '67
---
Professor Michael S Spencer
15 February 1932 – 3 April 2020 (aged 88)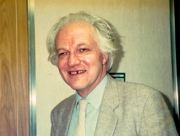 Photo - Michael Spencer after retiring from the Research Department at ICI in Billingham in the North East of England started a second career as an Honorary Professor in the School of Chemistry at Cardiff University.
Michael Staines Spencer was generous in giving his time to helping others. Always kind and conscientious he had an appetite for knowledge and immensely enjoyed his scientific career. He was born in Pinner in Middlesex and later the family moved to Epsom in Surrey; he had a younger sister and brother. His parents were married in 1931 in Willesden and earlier his Father had worked for the United Africa Company as a peanut trader in The Gambia. Later in England he was a fireman and after the war an agent for the Imperial Typewriter Company. Growing up during the war was not easy and once during a night air raid there was a degree of stubbornness apparent when the young Michael refused to get out of bed to go into a neighbour's air raid shelter. In desperation his mother insisted they sheltered under a table and this turned out to be fortunate because a direct hit killed those in the air raid shelter.
Michael attended Epsom County Grammar School for Boys from 1943 to 1951 which later evolved to the present Glyn School. His aptitude for science was cultivated by enthusiastic devoted teachers in the context of the country's need for scientists. When seventeen he took Higher School Certificate examinations in science subjects and did very well. The next year he obtained distinctions in chemistry, pure mathematics and applied mathematics. Following applications to Cambridge and Oxford Colleges supported by letters of strong recommendation from the long serving headmaster Frank L. Clark, on 21 December 1950 there was a telegram: "Congratulations you have been awarded a major scholarship at Emmanuel College – Senior Tutor". This was a wonderful Christmas Present, being admitted to Cambridge University with an annual scholarship of £100 - an illustration of inflation over seventy years! Michael was the first in his family to go to university.
Michael's younger brother Richard Andrew Spencer (known as Andrew to prevent confusion at home since his Father was also called Richard) followed his older brother and went to the same Grammar School in 1957. It was then housed in new premises and called Glyn Grammar School for Boys. However, in 1960 the family moved to Leicester where Imperial Typewriters had its headquarters so Andrew completed A-level studies at the Guthalaxton Grammar School (now Wigston College) gaining entrance to London University.
Michael went up to University for the 1951 Michaelmas term, and like many undergraduates he enjoyed the freedoms Cambridge offered. He is seen playing jazz trumpet in 1952 photographs of the Emmanuel College group in the University Rag procession and he was an active member of the Thomas Young Club and at one time he was a member of the organising committee. Thomas Young was a remarkable former Emmanuel College scientist famous for outstanding contributions in the late 1700s and early 1800s including establishing the wave theory of light with an interference experiment, for the development of the theory of capillary phenomena and for Young's Modulus.
Michael did not do well in his 1953 Part I examinations. However, he must have focused more on studying for in 1954 he got an upper second class degree in Chemistry. This enabled him to do research for a PhD supervised by Dr P. G. (Sandy) Ashmore in the Physical Chemistry Laboratory then in Free School Lane led by Professor Ronald Norrish a Fellow of Emmanuel College. In 1967 Manfred Eigen, George Porter and Ronald Norrish were awarded the Nobel Prize in Chemistry for their study of extremely fast chemical reactions.
The athletic Sandy Ashmore had an Emmanuel College research studentship in 1938 to do a PhD supervised by Ronald Norrish but the War intervened and he became a Squadron Leader in the RAF. He returned to Cambridge in 1946 and an Emmanuel College Research Fellowship enabled him to complete his PhD and later he became a College Fellow and Director of Studies. During his PhD research Michael studied reactions of nasty gases like nitrosyl chloride, nitric oxide, chlorine and chloromethanes. The analysis of chloromethanes required the development of a new chromatographic method with J. H. Purnell (doing a second PhD this time supervised by Ronald Norrish) and was the basis of Michael's first chemical publication, a 1955 article in the journal Nature. Later there were two substantial papers based on his PhD research published in the also prestigious Transactions of The Faraday Society.
It is said Michael met Patricia when struggling to take a barrel of beer up the stairs of a house in which she lived downstairs. They were married in Cambridge in July 1957 and he gave his address as Emmanuel College. Soon they moved to the North East and lived in Norton village near the ICI Billingham industrial site in County Durham where Michael had a position in the Research Department as a "Technical Officer". In the North East they started a family that later necessitated a move to a not too far away larger house.
ICI's products included vast amounts of fertilizer such as ammonium nitrate that can be thought of as being manufactured from air, water and energy derived first from coal and later naphtha before North Sea natural gas became abundant. Important large scale industrial processes were developed there including high pressure hydrocarbon steam reforming to produce Synthesis Gas (a mixture of hydrogen and carbon oxides) and its conversion with nitrogen derived from air to ammonia or methanol in the famous "ICI Low Pressure Methanol Process".
Most of the primary products manufactured at the highly productive Billingham site such as ammonia, nitric acid and sulphuric acid and in turn fertilizers compounded from them as well as methanol relied on gas phase reactions catalysed by solid catalysts. Michael with other ICI scientists played a leading role in understanding how these heterogeneous catalysts worked at a fundamental surface level. He was especially involved with the copper-based methanol synthesis catalyst and the copper-based low temperature water gas shift catalyst that enables the maximum amount of hydrogen to be extracted from the reaction of carbon monoxide and water. The theme of copper catalysts continued through his career and he authored many scientific publications on them.
At ICI Michael rose up the "Scientific Ladder" to become a "Science Associate" a senior position accompanied by a company car but unlike others in a similar position he had a sporty Italian car! After retirement from ICI in 1988 he started a second career as an academic at Cardiff University where he was an Honorary Professor in the School of Chemistry. He lectured on chemical thermodynamics, chemical technology and catalysis and became deeply involved in research projects that maintained his publication of always deeply thought provoking scientific papers.
After 35 years of being together Patricia passed away in 1992 and later Michael was supported by his companion Mair Owen. He maintained his publishing activities and continued to edit a series of fundamental and applied catalysis books. In recent years he wrote extensively on general scientific topics of Welsh interest in the Friends of the National Museum of Wales Magazine.
Amongst his many general interests Michael was an avid book collector, he enjoyed opera, classical and jazz music, art and fine wines and he took great pleasure in travel. At ICI he visited many universities as a part of joint research projects, he regularly attended international scientific conferences and he gave presentations at some. Most notably he enjoyed holidays at their family house in France and in the mid-1990's he and Mair spent three months on a trip around the world.
Michael was wonderfully generous he enjoyed life and his scientific career that had its origins with inspiring teachers at school who kindled a flame of interest and fascination that continued throughout his life. He is sadly missed by his extended family including seven children and nine grandchildren as well as by his friends and his many colleagues around the world.
Obituary by kind permission of Dr Martyn V. Twigg - 20 August 2020
---
NORMAN RICE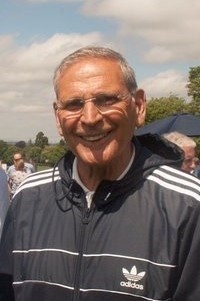 Norman died in hospital on 17 May 2020, unconnected with Covid-19. He was a stalwart of Old Glynians annual dinners and many members will have seen him there over recent years. Norman was an outstanding sportsman, representing the school and the county at soccer, playing first eleven cricket and taking part in County athletics well into the Veteran competitions. Those who played soccer with him, including several seasons for the Glyn Old Boys, will remember him as an elegant, rock steady centre half, dominant in the air and cultured on the ground. He was notably calm and measured, never heard to swear, but also remembered for some crunching tackles!
After a degree in Economics at Loughborough and a Teachers Certificate in London, he returned to Epsom and became the longest serving member of staff at Epsom College. Warm tributes were paid to him in 2015 when he finally retired after 44 years service, ending as Deputy Head. He was immensely popular with both pupils and staff, nurtured the Economics department but also coached athletics, cricket and soccer. The College website includes many happy memories from colleagues and former pupils. He leaves three daughters plus grandchildren and will be sorely missed by his family.
Obituary kindly written by Peter Thompson
.........................................................................................................................................
BOB STENSON died on 24 April 2020, after several years with a rare dementia, according to his wife Jean.
Bob left school at 16 and went into the construction industry, where he became a successful manager. Many members will remember Bob as a star of Old Boys' football, a natural athlete with great ability to hit the ball on the volley. His diving header in a crowded penalty area was voted "goal of the season" in about 1969. He was popular at away games, driving his white e-type Jaguar all over London. Bob also played guitar with Jimmy Page, later a rock star, but stayed strictly amateur himself. Bob leaves two daughters and grandchildren, now living in the Crawley area.
Obituary kindly written by Peter Thompson
..........................................................................................................................................
ROGER MCGUIRE - passed away 14 May 2020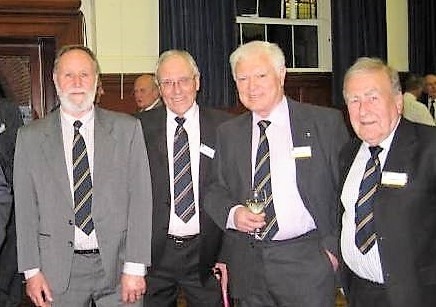 Pictured from left to right - John Smith, Roger McGuire, Bill Elliott, Ian Webster
Class 1C the Class of 1949
The life of Roger McGuire, who has died aged 81, was an inspiring example of triumph over adversity. Partly disabled by polio, which he contracted in his late teens, he went on to survive cancer, broken bones, and a variety of health scares to build a successful electrical engineering business and live a happy and fulfilled life with his wife, Carole, and two daughters at Greenham Common, near Newbury. Soon after their marriage, the couple had bought a dilapidated Victorian school house, which they spent every hour of their spare time converting into a desirable modern home.
Roger, a member of Abbey House, was at Glyn between 1949 and 54. After taking his GCEs, he left West Ewell, where he grew up, to move with his parents to Brighton. It was there that Fate played its cruellest hand. Ready to be called up for National Service in 1957, Roger, a keen gymnast, was hoping to serve his two years as a military PT instructor. A chance visit to a cinema resulted in him becoming one of six victims of the polio epidemic which was terrorising the country at the time.
He was one of only two survivors, although he was never to walk properly again. Doctors feared he would not live much beyond 40. But Roger, with his indomitable spirit, was to prove them wrong. One of his most joyous occasions in recent years was attending the Old Glynians' annual dinner, when he would drive from Newbury to spend the evening reminiscing with old school friends.
Roger died in Basingstoke Hospital on 14 May 2020, five days after a fall. Bill Elliott, a lifetime friend who joined Glyn with him in 1949, commented: "To me, he was indestructible."
Obituary kindly written by Roger's lifelong friend, Bill Elliott