In Memoriam
Our sincere condolences to the families and friends of former students who have sadly passed away:
---
Peter Curtis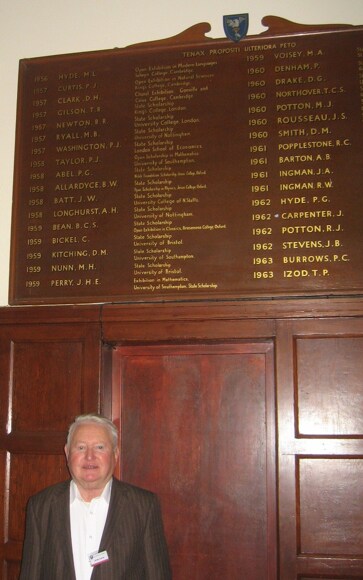 Glyn School from 1949 to 1957
David Rennie, a former classmate, writes, "Peter Curtis attended Glyn Grammar School from 1949 to 1957. This is his own synopsis of an incredibly full and varied life. It was given to me before he died in 2017 following a short illness.
Please click HERE to read Life Synopsis of Peter Curtis
Peter has a place on the Oxbridge Board in The Proctor Hall at Glyn School: 1957 Open Exhibition in Natural Sciences, King's College, Cambridge
---
ROGER MANNING 1927 -2019
Roger Manning attended Glyn School all through the war years, 1939 -1946. At the 2011 Reunion Dinner, together with Matt Skipp, with who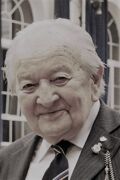 m he shared his time at Glyn, they gave a very entertaining account of their wartime experiences of life at Glyn.
Roger left school in 1946 and joined the Royal Artillery prior to pursuing a career in primary education, which ended as a Headteacher. His speciality was setting up and developing libraries for primary school children and he became an expert on childrens' books. He was given this citation by the Chair of Education, Inner London Education Authority upon his retirement on 31 December 1985:
"Amongst the many influences which contribute to the present happiness and future well-being of children and young people, few are so strong and abiding as those of a teacher who has secured their confidence and affection. The Chairman and members of the Inner London Education Authority wish you to carry into your retirement not only the awareness of how much your work has meant to hundreds of boys and girls of London, but also the assurance that they fully recognise the value of your contribution and that they are deeply grateful for all the good that your service has brought to so many young people".
Roger was a staunch supporter of The Old Glynians' Association and rarely missed a Reunion Dinner. He had many hobbies, which included collecting Toby Jugs and Teddy Bears. At the end of his life he had several health issues causing him to reside in a care home in Molesey where he died in October 2019.
---
EULOGY TO STUART TUCKER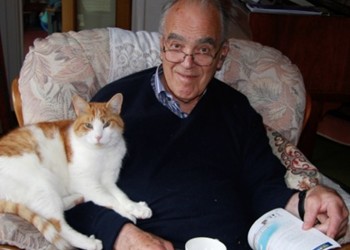 22 March 1929 to 8 November 2021
Michael Tucker writes of his brother, Stuart
Stuart Vivian Tucker was born on the 22nd March 1929 in Wimbledon. He was the first child of Gordon and Mabel Tucker. A short time later our parents moved to their first permanent home in Epsom, Surrey. I was born there in October 1934, and our late brother Bruce was born in March 1943. Our father had served in the Royal Flying Corps during the Great War, and our mother had entered the nursing profession.
We lived in a very close-knit community and were fortunate that dad built a grass tennis court, which took up most of the back garden. Very few families owned a car. Much of the traffic in those days was horse drawn, and the sight of racehorses being trained was always a delight to watch. They were lovely days, but when the Second World War broke-out, life changed considerably. Stuart and I either walked or took a Penny bus ride to school always carrying our gas-masks. Every Sunday we attended Church at St Barnabas. As the years progressed, we all served in the various duties in the Sanctuary always observing the black-out regulations throughout the war. Neighbours and friends continued to enjoy our tennis parties, but we all had to take cover when the loud siren warned of an imminent air attack. Under God's divine protection we survived the day-and-night attacks from the enemy. It was a huge relief when it all came to an end in 1945.
Now here is a funny story! In 1941, Stuart became ill with chickenpox. As expected, I caught it, too, from him! We were confined to home and were told that we would not be allowed to attend school until the spots, which turned into scabs before dropping off, had vanished. In time all my spots cleared, but not Stuart's. How and why was that? Well, he saved all the scabs in a small bottle and stuck them back on to his skin with Durofix glue he used in building his modal aircraft! How he got away with that ingenious, deceiving trick during mother's daily observations, I really don't know. I learned all about it many years later! Stuart's high school years were at Epsom Grammar School. Many years later he attended annually a dinner for the 'Old Boy's Association' at which he enjoyed reminiscing about the good old days, with so many former pupils.
In 1947 Stuart was studying architecture, however, he was called up for National Service and served in the Royal Engineers. Posted to war-torn Hannover, he lived and worked with fellow soldiers and German civilian employees in a battle-scarred mansion which was commandeered by the British Army Occupation of the Rhine, as one of its Post Offices. During his time there, he kept us well informed through his most interesting letters about his daily work and leisure time.
In July 1952, our family moved to Woodfield Lane, Ashtead. As a family, we regularly attended services at St Giles and St Georges. This continued to be a large part of Stuart's life until recent years when the church would then come to visit him. Stuart had a number of interests. He had taken up acting with the Falkland Players Amateur Dramatic Society in Merton, Wimbledon. He put his heart and soul into the productions, not only in acting in many plays, but also in stage-managing. With every play he made a scale model of the stage set which they used at rehearsals. They proved to be invaluable. Stuart asked if I would like to have a part in the Society's forthcoming production, 'It's different for men'. I was indebted to him for that invitation, which inspired me to do more years later.
Another pass-time Stuart had was making and flying modal aircraft. He joined the Leatherhead & District Modal Flying Club. It was not long before he became its Hon. Secretary and the Club's Treasurer. Because the members held him in such high esteem, he was annually elected and held those positions of office for 30-years. Quite a record! My brother Stuart was a quiet man in many respects, but at the same time was a very willing worker and very conscientious in everything he did. He had a fantastic memory, especially for dates. He always remembered peoples' birthdays and sent them Birthday cards which they more than appreciated.
Stuart didn't care for school, but although I liked it, I had great difficulties in reading. I lent on Stuart tremendously and I shall always be so grateful for the time he gave in reading stories to me. Stuart was also an excellent correspondent. During my time in the Royal Air Force, Stuart often wrote enclosing various cuttings he selected from newspapers and magazines which he felt would be of interest. This continued for the rest of our lives with him often taking great delight in correcting my spelling mistakes and grammar!
Stuart worked in various clerical positions in Chessington, London and Ilford travelling to work by train. Often, he would be complaining about the rail service and the trains not running on time. Stuart would often come in late, but mother would always have dinner waiting for him. Stuart learned some great cooking skills from mother. He was so proud of his home-made marmalade that would last a year. He also made stewed apples which, of course, had to be served with custard ─ his favourite. Custard went with everything!!! Mother would have been very proud of him! Mother always referred to her three sons as "the Boys".That endeared expression puzzled many, as those who did not know us wondered how she, in her advancing years, could possibly have three boys? That is why Stuart has asked for those two words, "the Boys" to be added to his and Bruce's headstone.
Valerie and I were very honoured to have Stuart as our Best Man at our wedding at St. Giles in 1959. A couple of years later Stuart became a much-loved uncle of our two daughters, Sharon and Alison, and a great uncle to Matthew, Melinda, Zoe and Amy. As he had no children of his own, he referred to them as "his grandchildren". They were all lucky enough to have got to know each other over the years with the many visits the children were able to make. Matthew & fiancé Kim visited often whilst they were living in the U K bearing homemade yummy food which he loved. I should mention here that Stuart met a lovely young lady, Joan Brown, whilst on a Christian Hostel Association holiday, they became engaged, but sadly they did not marry. However, they remained very good friends until she sadly passed away. Stuart was truly committed to Joan and tended to her grave for many years until his own health prevented him from doing so.
Throughout the years Stuart cared so much for our parents and younger brother, Bruce, and at the same time kept in very close touch with us and our families in Melbourne. Although he never visited Australia he had to watch "Neighbours" every day, which he loved discussing with his cousin Vanessa on a weekly basis. He also loved his chats with cousin Christopher. Living so many thousands of miles away, we have been most grateful for all the support given by neighbours and friends who have lovingly assisted Stuart in so many ways. We thank you all so much for coming here today to give Stuart a great send-off he so rightly deserves. In particular, we are indebted for all the kind help Jane and Martin Hiley have given Stuart over the last few years. This has been a great comfort to us. We also thank Jane most sincerely for the wonderful way she has made all the arrangements for this Service today. We are so appreciative to Arthur who has been his full-time carer for the last eighteen months. We also thank Kerry and Martin for keeping the house and garden in such good order, and all the lovely neighbours who have assisted in so many wonderful ways. Lastly, the medical teams who have visited the home. All these wonderful people have enabled Stuart to stay in his own home, where he died on 8th November 2021.That was his wish. Arthur has told us how Stuart had taught him daily the meaning of many English words. Stuart would often tell us that Arthur is one of the kindest men he has ever met. Stuart was a very humble, super-caring person and he never complained. Several times over the past few months, Stuart expressed to me how thankful he was for such a long life, and that he was now ready for his departure and to be received into a better place with our Loving Lord. It's in these difficult and unpredictable times of a global pandemic that the importance of love and family really hit home. He was a good man, friend to all and a much-loved brother, brother-in-law and uncle.
---
A TRI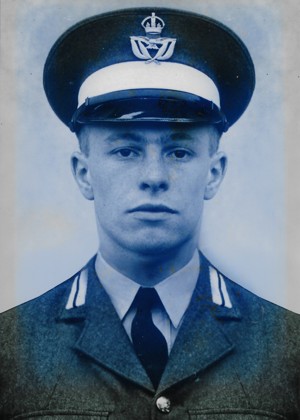 BUTE TO MATT SKIPP
6 July 1928 to 17 August 2021
Died peacefully in his bed aged 93
Paul Skipp writes of his father:
Matthew George Skipp was born in The London Hospital, Whitechapel Road, E1 on 6th July 1928.
He was proud to be a Cockney but never announced the fact. The family home was in Skidmore Street, Stepney. Dad took me there a long time ago and showed me the kerbstone where the street used to be. The area had been heavily bombed during the blitz and Skidmore Street was devastated. There are now high-rises on the site. He recounted many tales of his wartime experiences; during air-raids rushing to the Anderson shelter which his father had carefully and thoughtfully built and furnished, spotting and naming the German bombers when he managed to stay above ground against his parents' wishes.
My grandfather had the foresight to realise that it was far too dangerous to remain in London and so they evacuated to Epsom after a short stay in Greenford. The family home became 118 Horton Hill; an interesting road where many of the odd numbered houses had been built back to front. It was at this time that my grandmother walked through an active air raid to see FL Clark, then headmaster of The Epsom County Grammar School. Mr Clark was found sitting on his shooting stick on the school field ensuring all the boys were safely in the air raid shelters. My grandmother strode up to Mr Clark and announced, "My son should come to this school". Mr Clark asked why and my grandmother explained that Matthew had won a scholarship to Raynes School in London but was unable to take it up due to their evacuation. Mr Clark replied that if Matthew was as determined as she, he would be an asset to the school. Thus begun a multi-generational association with Glyn School.
Dad excelled at school and worked extra hard to keep up or better the boys who he perceived to be better than he because of their upbringing in the leafy Surrey suburbs. He also excelled at swimming and boxing. At Old Glynians' reunion dinners he would joyfully point out the brass plates on the floor of the school hall which were the site for the posts of the boxing ring. He rarely took part in team sports as most of them required specialist kit or equipment. His family could not afford such items and he had also badly damaged his feet wearing borrowed football boots. I was amazed when I was copying the school yearbook "Ebba's Scrip" to find in the years Dad was at school he was junior and intermediate athletics champion. He had never ever mentioned this and when I questioned him about it he simply said, Did I?" It seems his concentration had moved on to his favourite sports of swimming and diving (he went to Epsom baths almost every day before school) and boxing. He was also very active in appearing in school plays. When he was not involved in any of these activities it was highly likely you would have found him outside the gates of Rosebery School. Hmmm.
As boy was becoming man, Dad developed serious interest in flying as a career and cinematography as a hobby. He joined the ATC (Air Training Corps) and soon took his first flight. His interest in photography and cine had been nurtured from pre-war days when he had saved his pocket money and supplemented it by taking beer bottles back for a penny a time to buy a "Magic Lantern" – the forerunner of slide and cine projectors.
Against the odds once again, Dad gained entry to the RAF College, Cranwell, where he hoped to achieve his dream of becoming a fighter pilot. Once again, he was determined to be at least the equal of peers, many of whom were public school educated and went on to become high ranking RAF officers. He was top of his entry and was well on the way to achieving his goal when disaster struck; after starting aerobatics training he discovered that it made him terribly airsick and disoriented. Inevitably he was called before the Commandant who said, "Now you are going to get over this, Skipp, aren't you?" He replied, "I don't think so, sir". Dad was given every chance to change his mind, but the sickness had been so bad that he could never see an end to it. He was offered Bomber Command, but his attitude was "fighters or nothing", so knowing that he would never fly for the RAF he accepted a posting in the RAF Regiment.
Meanwhile, his boxing career had continued and he represented the college many times. One such occasion was to fight the Sandhurst representative who also happened to be ABA champion. Dad lost heavily having been knocked down several times. He got up each time until the fight was stopped. This was most unfortunate as the next evening he was due to have his first date with a local village girl named Betty Wilson. The rendezvous was a local bus stop. Betty was travelling on the top deck of the bus and upon looking down she saw what a terrible mess his face was. She didn't get off the bus. But Dad was nothing if not persistent and when his face was better they did eventually meet and were married in 1951. I came along later that year and we all lived together in Horton Hill with my grandparents. Dad's younger brother, Alan was still living at home then so it was a tight squeeze in that small house where the bath was used to store the coal for the fire.
Although Dad enjoyed the RAF Regiment up to a point he could not see it being as exciting as flying and left the RAF before getting married. He tried teaching, but didn't really like it. Then he worked at Epsom Town Hall and Hawkers in Kingston in clerical posts. These jobs also were not what dad wanted and he became a shop assistant in Frank Woods Photographic in Waterloo Road, Epsom. It was at this time that he joined the Epsom Cine Society and also formed the Nonsuch Film Group, where he met like-minded people keen on cine photography. This was anathema to mum as she was still very much a quiet, shy country girl at heart and also a very young mother. Dad insisted on her appearing (usually in leading roles) in the group's films. The films were quite good but mum's acting was bashfully terrible.
My brother Peter was born in 1954 and by 1956 Dad was earning enough money to rent a house for his own family and the four of us moved just a stone's throw to Upper Court Road. Later that year, the family got to the top of Council Housing list and were allocated a maisonette in Worcester Park Road. This was slightly problematic as dad had to catch the bus to work (the service was pretty hopeless back then too), and I had to move school to Cuddington Primary, a twenty minute walk away. Also a problem was that we now had a garden to tend. This was not up Dad's street at all, but mum loved it and did everything except mow the lawn.
In 1959 I joined the 1st Cuddington Sea Scouts and Dad soon got involved volunteering to help. It was an opportunity seemingly sent from heaven when he was asked to help teach cubs and scouts from the Epsom and Ewell to swim. Over a long period he and his brother Alan, also an excellent swimmer who played water polo for Fighter Command, taught hundreds of boys to swim. They were both given special awards for their services.
1962 was the year of the eleven plus. There was mild surprise when I passed. Dad was delighted and lost no time in seeing the headmaster and making arrangements for me to attend Glyn and be in his old house, Tudor. There was, of course, the minor obstacle of the Surrey County Council school application form, but Dad seemed to overcome that by putting Glyn, Glyn or Glyn on the form.
Dad was involved with Glyn school, Glyn Old Boys' Association and The Old Glynians' Association almost immediately after he left school. Over the years he held every post for the Old Boys except Treasurer. He was the author of some of the history of the school and the origin of the House names. Together with his old school friend Roger Manning they gave a very entertaining address at an Old Glynians' reunion dinner, an event which he rarely missed, on life at school during the war. We used to pull his leg that if he carried on long enough someone would make him Head Boy.
Dad became manager at Frank Woods in Epsom but he desperately wanted to have his own business. He was fortunate to find a business partner and consequently acquired the premises in Stoneleigh Broadway. He managed Matt Skipp Cameras for many years. He was renowned for his personal service and expert knowledge. Over the years quite a few Glyn boys were employed as Saturday assistants. One of them was Adrian Wood who became instrumental in the conception, implementation and construction of a sound/sync system for 8mm home movies called "Scipio". In its time it was revolutionary but hot on its heels was video and camcorder technology and its success was short-lived. After many years of serving his customers well, his patience started to wear rather thin when people started buying their equipment from large superstores and then bringing the items to him when they went wrong. I was present in the shop one day when a customer brought an item in and when dad established that it had not been purchased from him he said "Bloody hard luck", and showed them the door.
Dad foresaw that trade would drastically decline for the small businessman and sold his shop to a small chain retailer. He worked at a couple of their shops but his heart was no longer in it and he soon retired. He briefly became a careers advisor at NESCOT before fully retiring. Retirement gave him the opportunity to put more time into his many hobbies. He became something of an expert on Samuel Pepys and he started to fly aeroplanes again. He attained his private pilot's licence aged 70. He continued to fly solo until he was 80.He also bought a caravan which he would tow to many different locations. Typical of dad, he would spend hours getting the caravan exactly level when they arrived on site. Add to these activities a love of English church architecture, fantastic knowledge of English cathedrals, many periods of history and all forms of military history. He was a volunteer at The Royal Surrey Regiment museum for many years. Add to this his very active membership of the Rotary Club of Ewell of which was president for a time and a fleeting membership of freemasonry.
In 2011 Dad put a tremendous burden on himself when he realised Mum was suffering from dementia; a truly cruel condition. He tried to hide Mum's illness from everyone including the family but the strain became so great that Dad eventually collapsed while having lunch with Mum in the Glyn Arms and was taken to Epsom hospital. Mum was helpless on her own so a place was found for her to be cared for in Appleby House, Epsom. Upon his discharge from hospital Dad commenced visiting Mum every day, but once again, the strain of doing this made dad very ill and he started suffering from dementia himself. We managed to persuade Dad to reduce his visiting and when she was moved to Willow Lodge Nursing Home in Cheam we convinced him to cease visiting at all.
Dad had been diagnosed with prostate cancer many years previously. This had been carefully monitored by The Royal Marsden Hospital and not proved problematic until the last year of Dad's life. His PSA rocketed and the cancer began to spread aggressively to other parts of his body. His dementia also became rapidly worse, resulting in a live-in carer being employed and a separate n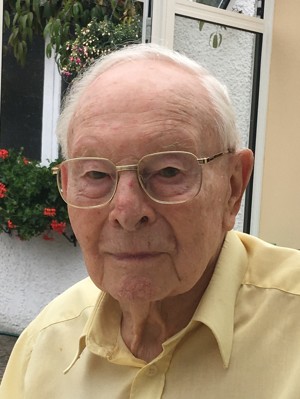 ight-time carer to stop his many attempts to get up during the night. He was too weak to stand unaided and ambulances were called many times to assist in picking him up.
It was very unpleasant to watch dad slowly dying but we were gratified that we were able to fulfil his dearest wish to die in his own home. He died peacefully in his bed on the morning of Tuesday 17th August 2021.
I'd like to end with a heartfelt thank you to Trinity Homecare. Their staff provided first class care for the last 6 years of Dad's life. Many of them were regarded as friends by Dad and virtual members of the family. Thanks also to the staff of the Princess Alice Hospice who provided superb palliative care for Dad, organising a medication regime for him which ensured his last days were pain-free. They were a huge support for the family, too.
---
Keith Crafter
12 April 1938 - 6 July 2021
Keith lived all of his life in Ewell and later Epsom. He enjoyed his time at Glyn School where he started in 1950 and was a keen member of the Boy Scouts. On leaving school Keith joined Surrey County Council studying at night school to become a Chartered Surveyor, specialising in rating and valuation. He remained doing SCC work until he retired, although this was contracted out later to W.S. Atkins and Bruton Knowles; both local firms. Keith's passions in life were jazz, collecting comic annuals and photography, from the early days of silent cine to camcorders. He also won a couple of amateur photographic competitions. On retirement, Keith, together with his wife Linda, became a volunteer at the National Trust property Polesden Lacey, working as a Room Guide. Keith was an enthusiastic and regular attender of The Old Glynians' reunion dinner. Keith leaves behind a wife, two daughters and two granddaughters. He was suffering from Lewy Body, a form of dementia.
---
Dave Randall
I went to school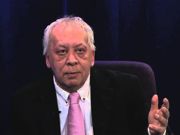 with Dave Randall from 1957 to 1968, attending both Cuddington County Primary and Glyn Grammar School together. At Glyn we were in the same 'German' stream. He was an enthusiastic, competent footballer and in the early years he represented The School. Dave was also one of the founding members of a Sunday football team, Park Orient, which combined the soccer talents of numerous local schools including Glyn, Tiffins and Kingston Grammar.
Dave first returned to The School as guest speaker at the Old Glynians' Reunion dinner of 2004. His address was highly entertaining, comprising mainly of anecdotes about newspaper headlines and banners with which he had been associated or had written. Dave's further education and career as a journalist are fully documented elsewhere.
Kindly written by Paul Skipp
*******
Below is one of several obituaries from the national papers:
The Observer, Sunday 18 Jul 2021
David Randall, former Assistant Editor of the Observer, dies aged 70
Respected journalist who also served as executive on the Independent and advised newspapers around the world on new technology
David Randall, a former assistant editor of the Observer, has died aged 70. He passed away at his desk working on a new edition of his book Suburbia, his chronicle of life growing up in the suburbs which was praised for its amusing insight into what really went on behind the often-closed (but not always net) curtains of the nation's semi-detacheds.
Randall, who is survived by his wife Pam, four sons, Guy, Paul, Simon and Tom and four grandchildren, was born in Ipswich, Suffolk, in 1951.
His introduction to journalism came while studying economics at Cambridge when he was invited to write for the university's student newspaper Varsity by its editor, Jeremy Paxman. He contributed to the weekly column The Adventures of Druisilla Nutt-Tingler.
After a brief spell as a professional comedian and a marketing manager for a cosmetics company – two experiences he would later insist were easily confused, he joined the Croydon Advertiser in 1974 as a trainee reporter. After working in a variety of roles he rose to become, in 1980, the editor of the paper, which then boasted the largest circulation local weekly in Britain.
He combined his day job with freelancing for national newspapers in Fleet Street in the evenings and weekends. This included a period writing picture captions for the infamous Sun page 3, an experience he later said taught him how to tell a story in very few words and that every word should count.
In 1981 he joined the Observer as deputy sports editor.
He later became assistant to the editor, Donald Trelford, and was involved in the paper's evolution from old hot metal printing to new journalistic direct input. In 1987 he spent time in the US studying editorial computer systems before returning to Britain to help oversee its transfer to the new production technology.
After leaving the Observer in 1993 he ran the national Rwanda appeal for the Disasters Emergency Committee which raised more than £30m to help survivors of the genocide that befell the east African country.
He went on to advise several newspapers around the world on new technology and presentation and design including the Sunday Standard in Kenya, and the Moscow Times in Russia.
He taught journalism in Africa for the British Council, and Russia and Central Asia for the EU. These experiences led to the writing, in 1996, of The Universal Journalist, a journalism text book which continues to be widely used by trainee journalists and is published in five languages around the world.
He later joined the Independent newspaper as a senior editorial executive before retiring to pursue his hobbies of golf, gardening and writing books.
The Observer
---
Geoffrey Moore - 1941 to 2021
Geoffrey was born in September 1941 and died on 30 January 2021. He left Glyn School in 1959 and was a regular attender of The Old Glynian Association's (TOGA) reunion dinners. He was an accomplished artist and a most competent craftsman. Geoffrey taught Design & Technology at Cranleigh School. He was a very keen and competent Boy Scout and very knowledgeable about the natural world which he fostered in his garden in Storrington. Latterly, Geoffrey suffered from Parkinson's Disease and was in the Westergate Care Home in Fontwell when he died.
---
Richard Watson - 2021
Earlier this year we learnt of the death of Richard Watson who was in Abbey House and who left Glyn in the late 1950s. His main interest in school was representing his House in plays.
On leaving school, Richard worked in local government and combined his love of archaeology, architecture and rambling with unstinting support for Ruxley Church in Ruxley Lane, Ewell. In recent years, Richard gave The Old Glynians' Association committee a great deal of help in setting up the annual TOGA dinners.
Obituary kindly written by Hugh Proctor
---
To celebrate the life of Richard Walker
Richar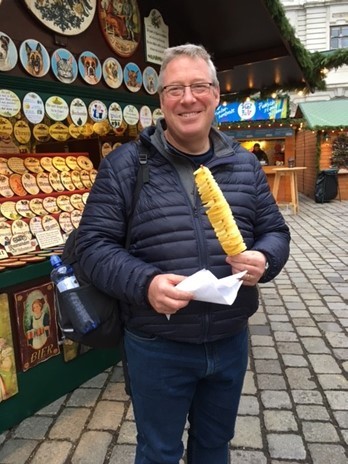 d died very suddenly and completely unexpectedly at home on the evening of Saturday 27 February 2021. His wife Emma was with him.
Richard was born in Epsom and joined Glyn School in 1975 where he was Head Boy in 1981 to 1982 before going to Aberystwyth University where he met Emma. After university, Emma and Richard moved to Worcestershire, creating a wonderful home for their sons Angus and Reuben and their animals. Richard derived enormous pleasure from his home life, spending time with family and friends and taking care of their horses, pigs, sheep, goats and chickens
Richard moved into the ophthalmic industry in his late 20s and forged a very successful career in Sales and Marketing, joining Sterimedix (Redditch) in the 2000s.
His family have set up a tribute page, richardwalker.muchloved.com, and encourage people who knew Richard to visit the site to see and share photos and comments, messages and thoughts about Richard.
In his memory, Richard's family would welcome charitable donations. Richard had been very actively involved over the years and had raised significant sums for two important local charities and his family are keen to continue this tradition. The charities are St Richard's Hospice (Worcester) and The Midlands Air Ambulance Charity. Donations to the charities can be made through richardwalker.muchloved.com.
Raising money for two such important charities that continue to do so much for the local community is one way to ensure that some good will come out of the great sadness felt by his family, friends and colleagues at this time.
The funeral service and committal will be held in compliance with Covid 19 restrictions, which means that only family and very close friends will be able to attend. The services will be live-streamed on Zoom to enable all who would like to join the services to do so. Please check the richardwalker.muchloved.com site for access details to the service.
The funeral will be held on Tuesday 30 March 2021 at Our Lady and St Joseph Church Alcester at 2.30pm, and the committal with be at The Vale, Evesham at 4.00pm.
---
In Memory of Brian Spencer 1922-2021
Class of 1933-38
We are saddened to announce the passing of Brian Spencer, former Glyn School student. Brian was our oldest 'Old Boy' at the time of his death, having attended the school from September 1933 to July 1938.
Brian was born in Leatherhead on 9 January 1922 and continued to live there his whole life. He was enrolled at Glyn School by his father on 12 September 1939 and was officially the '259th Glynian'. Brian's father was a labourer and Brian had his school fees paid for by Surrey County Council (Glyn School was fee paying at the time).
Brian was a keen sportsman and, although he did not excel in the classroom (he came 14th out of 23 in Form IVA in 1935) he did excel on the football pitch. In the 1936-37 Football Season, Brian played for the 2nd XI Football Team; he scored 13 goals that season, including 5 in one away game against Richmond in February 1937, with the Glyn team winning the match 12-1.
After obtaining a London School Leavers' Certificate in 1938, Brian went to work for the Post Office where he worked until his retirement, aside from a six year break between 1939 and 1945 due to his service in the RAF in WW2.
Brian joined the RAF after turning 18 and became a Navigator for 86 and 206 Squadron as a part of Coastal Command. Coastal Command was, at this time, entrenched in a life or death struggle in the Battle of the Atlantic. In this battle, Nazi Germany had declared all-out U-Boat war on the allies and was sinking vast amounts of shipping with the potential of starving Britain into surrender. Brian's role in this struggle was to spot and neutralise U-Boats in his B24 Liberator Bomber aircraft. In one terrifying episode, Brian's plane was shot down in the middle of the vast Atlantic Ocean and, despite having a broken arm, Brian saved the life of a member of his crew, then clung to life in a small rubber dinghy for days at the mercy of an unforgiving sea. Eventually, they were rescued. In September 1944 Brian was awarded the Distinguished Flying Cross for his exploits. At the end of the war, he returned to work in the Post Office, eventually becoming Postmaster of multiple Sorting Offices.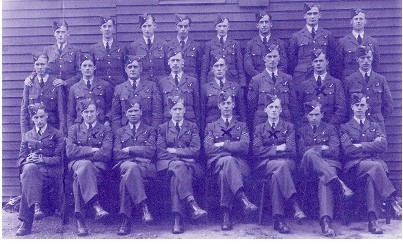 206 Squadron in WW2 - Brian Spencer is believed to be centre left, although this is not verified.
I had the honour of talking with Brian during The Old Glynians' Association (TOGA) 90th Anniversary Dinner, held here at school in The Proctor Hall, in March 2017. A lovely man, and an Aston Villa fan his whole life, all Brian wanted to talk to me about was football. The first question he asked me was if the current Glyn 1st XI were any good, to which I replied that they had just won the Surrey Cup in truly dramatic circumstances. I remember Brian looking slightly disappointed at this news, but then looked at me with a mischievous smile and a twinkle in his eye and said, "I bet they didn't beat Richmond 12-1 away though, did they?"
A true gentleman, who took an active role in school life for a period that spanned nine decades, Brian will be remembered with fondness by all who came across him. In the words of one Old Boy, "Brian is, quite simply, a Glyn Legend."
Obituary kindly written by Mr Summers, Head of History
***
Brian Spencer Further Tribute - written by Roy Betts
A tribute to Brian would not be complete without reference to his love of golf and his long association with Leatherhead Golf Club. This association began in 1933 when Brian became an eleven year old schoolboy caddie at the club. In 1946, on his return from service with the RAF during World War II, the Artisan Section of the club was formed and Brian became its first Secretary. At the end of the 1940s he became a full member. Captaincy of the club followed in 1965, then his appointment as President, first in the mid 1980s and again from 2000 until 2003, the club's centenary year; to commemorate which, Brian wrote a 29 page history of the club. Brian was a talented golfer, playing off a single figure handicap at his best, and won many of the Club's competitions. He was competitive and good company, both on and off the golf course. Although he retired from golf when he was unable to play as he once did, Brian remained a frequent visitor to the club until prevented from doing so by ill health.
---
Peter Nicolle
22 October 1949 – 17 August 2020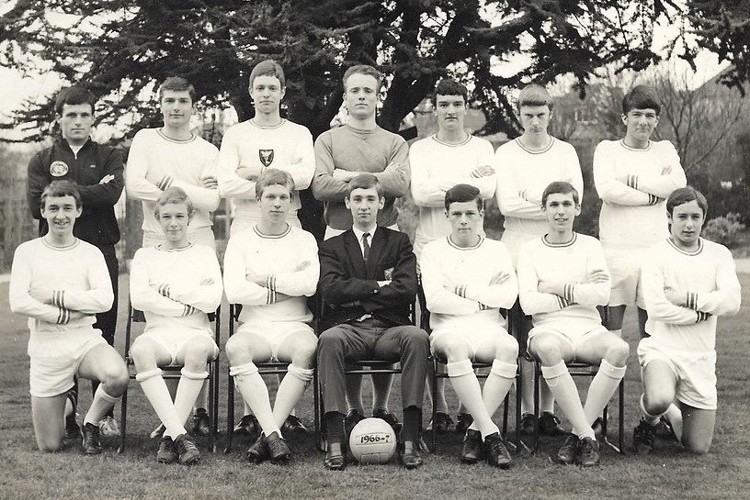 Back row: Dario Gradi, Adrian Webb, Jim Chappell, Mike Parker, Shaun Smythe, Chris Green, Mike Drake.
Front row: Alan Payne, Peter Nicolle, Bill Wallace, Alan Gillette, Chris Porter, Erik Sorensen, Dave Smith.
Peter Nicolle, who attended Glyn School from 1961 to 1968, died on 17 August 2020 following a 12 month illness with oesophageal cancer.
Peter was born in Greenford, Middlesex, to Jack and Jean in 1949. He had two younger brothers, Richard and Ian. When Peter was six, the family moved to Ewell.
Peter attended West Ewell Primary School and then went on to Glyn in 1961, where he was in Abbey House. He had a bright, lively personality with a keen intellect and was selected to take his GCE's 'a year early'. This brought him up into the class of '68 where he formed firm friendships with those who played for the school's football teams where, though he was slight of build, he became a deft passer of the ball and represented all three of the school's senior teams. Peter played at right back for the first team which was coached at the time by Dario Gradi. Some of that team are still in touch and Mike Parker (our goalkeeper) vividly remembers the time that Peter scored an own goal - his friends never let him forget it!
He was also a gifted actor, putting in a superb and all too convincing performance in one school play as the virtuous Queen Hermione suspected of infidelity by King Leontes in "A Winter's Tale". This is a skill he seems to have passed onto his older son David, who went on to achieve acting success on the West End stage in 'The Graduate' and 'Imperium'.
Following school, he went to Lanchester Polytechnic Coventry, where he studied business. After graduating, he joined Rank Xerox in the sales and marketing department. Peter continued to work as a sales executive for different companies throughout his career. He retired in 2016.
Peter married Olwyn in 1972 and they had one son, David. Tragically, Olwyn died of cancer when she was 40 years old. He later married Margot in 1993 and they had one son, Jack.
Over the last 10 years Peter was part of a regular Class of '68 walking group which met up twice a year to relive old times, exercise across the Chilterns and share a pint or two. We will all miss him greatly. A member of the group said: "Perhaps our greatest insight into Peter was the manner in which he faced the difficulties of his final illness and its inevitable outcome. He was almost always positive and upbeat, without regret, and remained interested in everything and everyone about him to the end."
In January, Peter's ambition was to live to see the Grand National; sadly that did not take place, but his love of the horses kept him alert, if not rich, over his final weeks in the care of David and his loving neighbours.
He is survived by Margot and his sons David and Jack.
Obituary compiled by Roger Cornish, with help from Richard and David Nicolle and the Class of '67
---
Professor Michael S Spencer
15 February 1932 – 3 April 2020 (aged 88)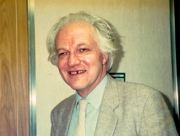 Photo - Michael Spencer after retiring from the Research Department at ICI in Billingham in the North East of England started a second career as an Honorary Professor in the School of Chemistry at Cardiff University.
Michael Staines Spencer was generous in giving his time to helping others. Always kind and conscientious he had an appetite for knowledge and immensely enjoyed his scientific career. He was born in Pinner in Middlesex and later the family moved to Epsom in Surrey; he had a younger sister and brother. His parents were married in 1931 in Willesden and earlier his Father had worked for the United Africa Company as a peanut trader in The Gambia. Later in England he was a fireman and after the war an agent for the Imperial Typewriter Company. Growing up during the war was not easy and once during a night air raid there was a degree of stubbornness apparent when the young Michael refused to get out of bed to go into a neighbour's air raid shelter. In desperation his mother insisted they sheltered under a table and this turned out to be fortunate because a direct hit killed those in the air raid shelter.
Michael attended Epsom County Grammar School for Boys from 1943 to 1951 which later evolved to the present Glyn School. His aptitude for science was cultivated by enthusiastic devoted teachers in the context of the country's need for scientists. When seventeen he took Higher School Certificate examinations in science subjects and did very well. The next year he obtained distinctions in chemistry, pure mathematics and applied mathematics. Following applications to Cambridge and Oxford Colleges supported by letters of strong recommendation from the long serving headmaster Frank L. Clark, on 21 December 1950 there was a telegram: "Congratulations you have been awarded a major scholarship at Emmanuel College – Senior Tutor". This was a wonderful Christmas Present, being admitted to Cambridge University with an annual scholarship of £100 - an illustration of inflation over seventy years! Michael was the first in his family to go to university.
Michael's younger brother Richard Andrew Spencer (known as Andrew to prevent confusion at home since his Father was also called Richard) followed his older brother and went to the same Grammar School in 1957. It was then housed in new premises and called Glyn Grammar School for Boys. However, in 1960 the family moved to Leicester where Imperial Typewriters had its headquarters so Andrew completed A-level studies at the Guthalaxton Grammar School (now Wigston College) gaining entrance to London University.
Michael went up to University for the 1951 Michaelmas term, and like many undergraduates he enjoyed the freedoms Cambridge offered. He is seen playing jazz trumpet in 1952 photographs of the Emmanuel College group in the University Rag procession and he was an active member of the Thomas Young Club and at one time he was a member of the organising committee. Thomas Young was a remarkable former Emmanuel College scientist famous for outstanding contributions in the late 1700s and early 1800s including establishing the wave theory of light with an interference experiment, for the development of the theory of capillary phenomena and for Young's Modulus.
Michael did not do well in his 1953 Part I examinations. However, he must have focused more on studying for in 1954 he got an upper second class degree in Chemistry. This enabled him to do research for a PhD supervised by Dr P. G. (Sandy) Ashmore in the Physical Chemistry Laboratory then in Free School Lane led by Professor Ronald Norrish a Fellow of Emmanuel College. In 1967 Manfred Eigen, George Porter and Ronald Norrish were awarded the Nobel Prize in Chemistry for their study of extremely fast chemical reactions.
The athletic Sandy Ashmore had an Emmanuel College research studentship in 1938 to do a PhD supervised by Ronald Norrish but the War intervened and he became a Squadron Leader in the RAF. He returned to Cambridge in 1946 and an Emmanuel College Research Fellowship enabled him to complete his PhD and later he became a College Fellow and Director of Studies. During his PhD research Michael studied reactions of nasty gases like nitrosyl chloride, nitric oxide, chlorine and chloromethanes. The analysis of chloromethanes required the development of a new chromatographic method with J. H. Purnell (doing a second PhD this time supervised by Ronald Norrish) and was the basis of Michael's first chemical publication, a 1955 article in the journal Nature. Later there were two substantial papers based on his PhD research published in the also prestigious Transactions of The Faraday Society.
It is said Michael met Patricia when struggling to take a barrel of beer up the stairs of a house in which she lived downstairs. They were married in Cambridge in July 1957 and he gave his address as Emmanuel College. Soon they moved to the North East and lived in Norton village near the ICI Billingham industrial site in County Durham where Michael had a position in the Research Department as a "Technical Officer". In the North East they started a family that later necessitated a move to a not too far away larger house.
ICI's products included vast amounts of fertilizer such as ammonium nitrate that can be thought of as being manufactured from air, water and energy derived first from coal and later naphtha before North Sea natural gas became abundant. Important large scale industrial processes were developed there including high pressure hydrocarbon steam reforming to produce Synthesis Gas (a mixture of hydrogen and carbon oxides) and its conversion with nitrogen derived from air to ammonia or methanol in the famous "ICI Low Pressure Methanol Process".
Most of the primary products manufactured at the highly productive Billingham site such as ammonia, nitric acid and sulphuric acid and in turn fertilizers compounded from them as well as methanol relied on gas phase reactions catalysed by solid catalysts. Michael with other ICI scientists played a leading role in understanding how these heterogeneous catalysts worked at a fundamental surface level. He was especially involved with the copper-based methanol synthesis catalyst and the copper-based low temperature water gas shift catalyst that enables the maximum amount of hydrogen to be extracted from the reaction of carbon monoxide and water. The theme of copper catalysts continued through his career and he authored many scientific publications on them.
At ICI Michael rose up the "Scientific Ladder" to become a "Science Associate" a senior position accompanied by a company car but unlike others in a similar position he had a sporty Italian car! After retirement from ICI in 1988 he started a second career as an academic at Cardiff University where he was an Honorary Professor in the School of Chemistry. He lectured on chemical thermodynamics, chemical technology and catalysis and became deeply involved in research projects that maintained his publication of always deeply thought provoking scientific papers.
After 35 years of being together Patricia passed away in 1992 and later Michael was supported by his companion Mair Owen. He maintained his publishing activities and continued to edit a series of fundamental and applied catalysis books. In recent years he wrote extensively on general scientific topics of Welsh interest in the Friends of the National Museum of Wales Magazine.
Amongst his many general interests Michael was an avid book collector, he enjoyed opera, classical and jazz music, art and fine wines and he took great pleasure in travel. At ICI he visited many universities as a part of joint research projects, he regularly attended international scientific conferences and he gave presentations at some. Most notably he enjoyed holidays at their family house in France and in the mid-1990's he and Mair spent three months on a trip around the world.
Michael was wonderfully generous he enjoyed life and his scientific career that had its origins with inspiring teachers at school who kindled a flame of interest and fascination that continued throughout his life. He is sadly missed by his extended family including seven children and nine grandchildren as well as by his friends and his many colleagues around the world.
Obituary by kind permission of Dr Martyn V. Twigg - 20 August 2020
---
NORMAN RICE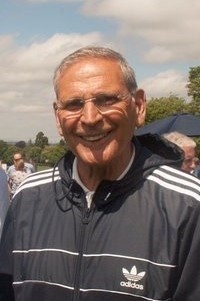 Norman died in hospital on 17 May 2020, unconnected with Covid-19. He was a stalwart of Old Glynians annual dinners and many members will have seen him there over recent years. Norman was an outstanding sportsman, representing the school and the county at soccer, playing first eleven cricket and taking part in County athletics well into the Veteran competitions. Those who played soccer with him, including several seasons for the Glyn Old Boys, will remember him as an elegant, rock steady centre half, dominant in the air and cultured on the ground. He was notably calm and measured, never heard to swear, but also remembered for some crunching tackles!
After a degree in Economics at Loughborough and a Teachers Certificate in London, he returned to Epsom and became the longest serving member of staff at Epsom College. Warm tributes were paid to him in 2015 when he finally retired after 44 years service, ending as Deputy Head. He was immensely popular with both pupils and staff, nurtured the Economics department but also coached athletics, cricket and soccer. The College website includes many happy memories from colleagues and former pupils. He leaves three daughters plus grandchildren and will be sorely missed by his family.
Obituary kindly written by Peter Thompson
.........................................................................................................................................
BOB STENSON died on 24 April 2020, after several years with a rare dementia, according to his wife Jean.
Bob left school at 16 and went into the construction industry, where he became a successful manager. Many members will remember Bob as a star of Old Boys' football, a natural athlete with great ability to hit the ball on the volley. His diving header in a crowded penalty area was voted "goal of the season" in about 1969. He was popular at away games, driving his white e-type Jaguar all over London. Bob also played guitar with Jimmy Page, later a rock star, but stayed strictly amateur himself. Bob leaves two daughters and grandchildren, now living in the Crawley area.
Obituary kindly written by Peter Thompson
..........................................................................................................................................
ROGER MCGUIRE - passed away 14 May 2020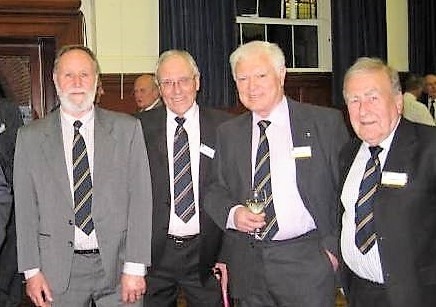 Pictured from left to right - John Smith, Roger McGuire, Bill Elliott, Ian Webster
Class 1C the Class of 1949
The life of Roger McGuire, who has died aged 81, was an inspiring example of triumph over adversity. Partly disabled by polio, which he contracted in his late teens, he went on to survive cancer, broken bones, and a variety of health scares to build a successful electrical engineering business and live a happy and fulfilled life with his wife, Carole, and two daughters at Greenham Common, near Newbury. Soon after their marriage, the couple had bought a dilapidated Victorian school house, which they spent every hour of their spare time converting into a desirable modern home.
Roger, a member of Abbey House, was at Glyn between 1949 and 54. After taking his GCEs, he left West Ewell, where he grew up, to move with his parents to Brighton. It was there that Fate played its cruellest hand. Ready to be called up for National Service in 1957, Roger, a keen gymnast, was hoping to serve his two years as a military PT instructor. A chance visit to a cinema resulted in him becoming one of six victims of the polio epidemic which was terrorising the country at the time.
He was one of only two survivors, although he was never to walk properly again. Doctors feared he would not live much beyond 40. But Roger, with his indomitable spirit, was to prove them wrong. One of his most joyous occasions in recent years was attending the Old Glynians' annual dinner, when he would drive from Newbury to spend the evening reminiscing with old school friends.
Roger died in Basingstoke Hospital on 14 May 2020, five days after a fall. Bill Elliott, a lifetime friend who joined Glyn with him in 1949, commented: "To me, he was indestructible."
Obituary kindly written by Roger's lifelong friend, Bill Elliott
................................................................................................................................................................................................................................................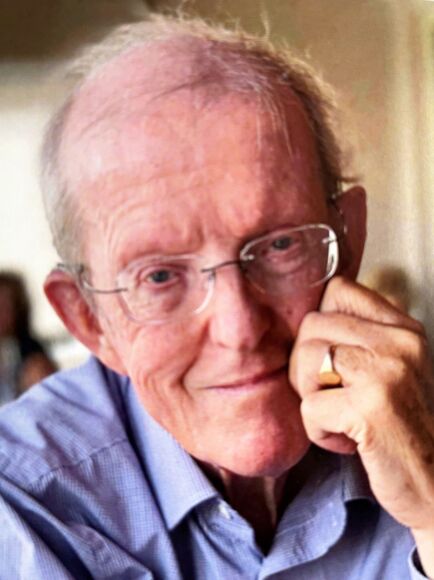 Malcolm Lawther RIP 24th January 2023
Malcolm was born on 13th September, 1941, in Gosforth, near Newcastle, a community rooted to the east of the North Pennines. Son of a professional soldier, an engineer, Malcolm, with his mother Jane and elder brother Donald, moved house with every new military posting. And that brought them eventually south to Salisbury and then to Leatherhead. It was there, during Malcolm's Senior School days that his father died.

Malcolm was clever: And so he went to Glyn Boys School, Ewell, where he relished sports - especially football and cricket. Team sport builds brotherhood, makes lasting friendships. His dad's death left Malcolm with early financial responsibilities. But his earnings from his Saturday job - making meat deliveries by bicycle - would not stretch far. So he set aside thoughts of University, got on with things, and was quickly accepted as a trainee by Lloyds Bank.
And that was how he came to meet Jill Cattell - the young woman who was to become his best friend and later his wife. Jill, who lived in Torquay, had also chosen a career with Lloyds Bank. They met at a dance. Malcolm was nothing less than resourceful, and he hitch-hiked his way to Torquay and Jill as often he could - until, in 1965, they married, and made their first home in Hampton Wick.
During Malcolm's rise to become Head of Securities, Simon was born (1967), and not long afterwards Malcolm joined Lloyds Access Credit Card promotion team. He looked forward to his entry into High Street Branch Management, but in 1971, before that time arrived came another arrival, his second son, Neil. Short notice of that imminent event sent him hurtling through Roseberry Park at break-neck speed to the maternity ward at Epsom. A posting to Walton-on-Thames began his Branch Management tour of south London that included Wimbledon Common, Mitcham and of course Epsom Branch. It was the transfer to Epsom that brought the family to Station Avenue in West Ewell and subsequently Windmill Lane - where at the same time they acquired Lucy, their dog. And that was where my wife and I met them. We became next door neighbours.
Being the proud father of two energetic boys re-energised Malcolm's sporting interest. He got stuck-in, and in due course became responsible for the Epsom Eagles football club, youngsters of Simon's age as well as taking on more in support of his sons' enthusiasm for 2nd Ewell Cub and Scouting activities. His wider social commitments were developing at the same time, too: He was treasurer of the local CRUSE bereavement support organisation and, a regular Server here at Saint Mary's and later on became the church warden: He ran the book stall at the annual Church Fair for around thirty years. Well, you know how it is; volunteers are often in short supply! And during some of that time, of course, he continued to support his widowed mum living out at Thames Ditton.
After his retirement from banking, he put his skills at the disposal of Wallace Fields First School, managed property financial arrangements, and undertook certain responsibilities for Epsom's Conservative Association. He followed the fortunes of Newcastle, Wimbledon, Sutton United, and Leatherhead football clubs. And whenever he could, he shunned the car, preferring his bicycle. That was a good move, I often thought. He was fit. And he and Jill travelled widely, visiting the boys, their daughters-in-law and grandchildren - seeing much of the world. You do it when you can - if you can - because sometimes later in life, infirmity sets in and memories become more than ever important.
And yet, in some ways perhaps his quietest and deepest passion - as time slipped by - was for his garden; in which he could lose himself. It was easier sometimes for Jill to coax him into the house at meal times by sounding a hand bell. Locating him amid his trees, his flowers, and his vegetables was not always easy!
Inexorably during our later years, our children and grandchildren, the young lives we love with such passion, begin to 'leave us behind'. A father does not so much lose confidence as grow somewhat in awe and pride at his children's achievements. And so it was with Malcolm - who watched two paths with delight: The first as Simon immersed himself in Business Studies at Portsmouth, a road that led to Julie and took them to Thailand and then Australia, where they now live with their sons Freddie and Finley, and their daughter Tess; The second, as Neil pursued his facility for languages in Norwich, and then pursued Kristin to Norway where they built their family, creating Susanna and Christopher.
In our conversations over the fence we talked about this and that - and a lot about our children. But whatever was said was always kindly, even when we were cross. Malcolm was sound and thoughtful, and (maybe like most of us) shy and sensitive, too. For life - which is generally kind if you just get on with things - brings cuts and bruises, too. He was uncomplaining. Saw the good in most things; And was intensely fond of Jill, his boys, their wives, and his beautiful grandchildren.
Obituary kindly written by Malcolm's long-time neighbour and friend, Robert Hughes
Footnote
Malcolm joined The Old Glynians' Association, formerly Glyn Old Boys, upon leaving school. He was a member of the committee for many years and was Honorary Secretary from 2004 to 2013. He remained on the committee until failing health forced his resignation. He will be sorely missed by The Association.
Paul Skipp Hon. Sec (TOGA)
...................................................................................................................................................................................................................................................
Dr Alfred Price RIP 1936 - 2017
Alfred "Alfie" Price served in the Royal Air Force (RAF) as an aircrew officer. Price received his PhD in history from Loughborough University.
After his retirement from the air force, Price wrote extensively on aviation and military topics. He was named a Fellow of the Royal Historical Society.
He was diagnosed with Parkinson's disease and died on January 29, 2017.
Below are selected titles from among the 46 books he wrote. He was also the author of at least 200 magazine articles on similar subjects, He was a world acknowledged expert in the field of Electronic Warfare (EW).
Pictorial History of the Luftwaffe 1933-1945. London: Allan, 1969. ISBN 0711001006
Focke Wulf 190 at War. New York: Scribner, 1977. ISBN 0684153238
Instruments of Darkness: The History of Electronic Warfare. London: Macdonald and Jane's, 1977. ISBN 035401062X
Battle of Britain 18 August 1940: The Hardest Day. London: Macdonald and Jane's, 1979. ISBN 0586036539
The Spitfire Story. London: Jane's, 1982. ISBN 0867206241
Air Battle Central Europe. New York: Warner Books, 1990. ISBN 0446360473
The Last Year of the Luftwaffe, May 1944 to May 1945. London: Arms and Armour, 1993. ISBN 1854091891
Late Marque Spitfire Aces: 1942-45. London: Osprey, 1995. ISBN 1855325756
Spitfire Mark V Aces, 1941-45. London: Osprey Aerospace, 1997. ISBN 1855326353
Sky Battles!: Dramatic Air Warfare Actions. London: Cassell, 1998, 1993. ISBN 0304351032
Targeting the Reich: Allied Photographic Reconnaissance Over Europe, 1939-1945. London: Greenhill, 2003. ISBN 1853675466
Battle Over the Reich: The Strategic Air Offensive Over Germany. Hersham: Classic, 2005. ISBN 1903223474
A number of his books, donated from the Matt Skipp collection, are displayed in The School Museum
Dr Price served as an aircrew officer in the Royal Air Force, where he was a crewman on Vulcan bombers and specialised in electronic warfare and air fighting tactics. In a military flying career spanning fifteen years he logged over 4,000 flying hours. He left the service in 1974 and since then has been a full-time writer on aviation subjects. He is author of 46 books and more than 200 magazine articles. He holds a PhD in history from Loughborough University and is a Fellow of the Royal Historical Society.
Dr Price was the author of more than 40 books and around 200 magazine articles. He served as an Air Electronics Officer in the RAF, flew mainly on Vulcan and EW Canberra aircraft, and became an instructor at the Vulcan Conversion Unit. His first book was 'Instruments of Darkness', which described the history of EW during the Second World War. 'War In The Fourth Dimension' brought the EW story up to date, while 'Aircraft Versus Submarine' was another landmark achievement.
Many of his other books were on Second World War topics and included 'The Last Year of the Luftwaffe', 'Blitz on Britain', 'Targeting the Reich', 'Pictorial History of the Luftwaffe', and 'The Bomber In World War II', but his 'One Day in a Long War' covered Operation Linebacker during the Vietnam War.
Alfie Price, as he was known to his friends was brought up in Ewell, and much of the Battle of Britain was fought out over his home. He was always fascinated with military planes, the Spitfire most of all. As soon as he could, Price joined the RAF, then volunteered for aircrew as an Air Electronics Officer and flew in Hastings transports and Vulcan bombers. He also instructed in electronic warfare and target penetration tactics. He left the RAF as a Flight Lieutenant in 1974, having logged over 4,000 flying hours, to pursue his dream of becoming an aviation writer.
Alfred Price served for 16 years as an aircrew officer in the Royal air Force where he specialised in electronic warfare and air fighting tactics.

He left the RAF in 1974 and thereafter he worked full time as a writer on aviation subjects.

He holds a PhD in history from Loughborough University and is a Fellow of the Royal Historical Society.
See also MGS memories of 323 Sqn ATC
Alfred Walter Price, date of birth 1936 – hard to read but think it says 3 August. Started at Glyn on 9 September 1947 and left 25 July 1952. Previously attended Ruxley Lane Council School. Address at that time was 19 Oakhurst Road, West Ewell. Under future careers, it states RAF but not sure if that is where Alfred went but seems to link with the aviation interest.