Parent's and Carer's Resources, Guides and Events
As a parent or carer, you want to be able to guide and advise your child towards the best opportunity for them. So, where do you start?
There are so many options available to your child when they leave school. Depending upon their age will depend on the pathways open to them.
Below are links to five key areas to help support your child and their next steps including a section with Parent and Carer Guides covering Option Choices at 14, 18 and 18, applying to university, apprenticships and much more.
We hope you find this area usefull.
Amazing Apprenticeships - Parents Zone:
As a parent or carer, you want to be able to guide and advise your child towards the best opportunity for them. So, where do you start?
There are so many options available to your child when they leave school. Depending upon their age will depend on the pathways open to them.
Post 16 students can join a sixth form, begin an apprenticeship, study T Levels at some colleges or develop their confidence through a traineeship
Post 18 students can also begin apprenticeships, apply for full-time university, consider a gap year, move into employment or even consider volunteering!
With such a range of opportunities now available it is important for teachers, parents and carers to develop our knowledge as being informed is the best way to build our confidence, and ultimately to support the next generation to make the best decision for them.
Amazing Apprenticeships has a dedicated Parent Zone, to help you to begin to explore these options.
Included in this area are the following excellent resources:
In addition to the above resources, this website has a fantastic series of Podcasts called the Parent Perspective to support you to support your child with careers advice and guidance. Click on the links below to access each episode.
In episode 1 we hear from Nicola Hall, Director of Education at the Careers and Enterprise Company, talking about the current careers landscape and her 5 top tips on how to support your child when exploring options.

We'll also hear from George Anderson, a health and wellbeing coach, addressing the anxieties parents have right now and the practical solutions to help.

We are also joined by a brilliant panel of parents and carers, who will be asking questions and discussing our speaker topics throughout the episode.

In episode 2 we look at the experiences of young people and ways in which they can stand out when applying for competitive schemes.

We hear from a young graduate and an apprentice about their respective career journeys, what paths they took, why they made that choice, and how their parents supported them to pursue their chosen careers.

We also hear from Mark Smith, Resourcing Specialist – Early Careers, at the BBC, who shares his hints and tips for young people applying for competitive schemes and his insights on careers opportunities at the moment.

In episode 3 we look at ways in which parents can be supporting and advising their children about the variety and range of careers.

Lucy Hunte, National Programme Manager for Health Education England, joins us to discuss how and where parents can make a start in advising their child. Lucy also looks more widely at the opportunities available within different sectors and employers, as well as the different pathways to access them.

We are also joined by two inspiring apprentices, one current and one former, to talk about their experiences in taking next steps and the ways their parents supported them.

Haider Ali is an apprentice at Rolls Royce and Kathryn Monkcom used her apprenticeship to build skills to start her own business – where she is now a careers coach.
In episode 4 of series 1, Sarah Barley joins Steve to share her advice for parents as a careers leader and expert. Sarah also answers a wide range of questions sent in from parents about how they can support their children in the lead up to results day.

We are also joined by Sharon, an amazing apprentice at Channel 4, to talk about her experiences of being an apprentice and what her career journey was like.
Link - National Careers Service
Link - The Parents Guide To....
'The Parents' Guide To...' website provides a range of free support for both Parents and Carers of Sixth Form students, as well as those taking GCSEs. It includes guides, useful articles, a Q&A system where we answer questions personally, live chats, and a blog with the latest news. It covers all the important issues Parents and Carers may need help with. The website can be accessed via this link: www.theparentsguideto.co.uk/parents
We have summarised these resources below:
Applying to University
Resources to support those applying to university in the 2021/2022 academic year:
'The Parents' Guide to' Personal Statements: Download here
Ideas to help teenagers choose the right university course: Read more
The 'Ultimate University Shopping List' with links to recommended buys: Download here
Thinking About Apprenticeships
Resources to support teenagers in making a decision about whether Apprenticeships could be the right choice for them:
Apprenticeship levels, entry requirements and possible qualifications: Download here
Is an Apprenticeship a good choice for all teenagers?: Discover more
How has the pandemic affected apprenticeships?: Learn more
Talking About Next Steps With Teenagers
Parents' and Carers' Career Events
An Invitation for Parents and Carers: Success Beyond School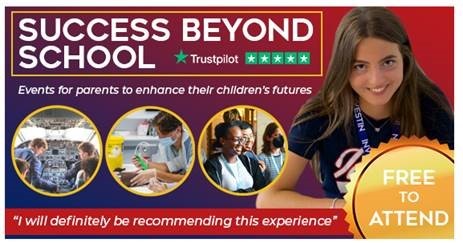 INVESTIN have just announced a series of event to parents and carers events to help you to support your child as part of their Success Beyond School series for 2022. These are free-of-charge, live online seminars featuring career experts, designed to help parents amplify their children's career potential.
There are five fantastic seminars this term, including topics such as 'how to help your child choose their career' and 'how to inspire young women to become entrepreneurs.' These events are for parents and carers of students aged 12-18 and are free to attend.
The planned events are:
Wednesday 23 March: The Ultimate Career Experience - Everything you need to know about InvestIN's life-changing Summer Experiences
Wednesday 6 April: The Career Workshop - Helping your child to choose their future with confidence
Wednesday 4 May: Through the Magnifying Glass - Uncover your child's future in forensic science
To register for these opportunities please click this link.
In addition to these free events there of a number of pre-recorded past events which you are free to view. These include:
Level-up with Law - Discover expert tips on how to support your child in their law journey.
Building a future in finance - Learn from leading experts on how your child can break into the finance industry.
Learning to lead - Today's young people will be the leaders of tomorrow, so it's important we support their leadership skills early.
Succeeding in STEM - Kickstart your child's career in Science, Technology, Engineering and Maths.
The skills surgery - How you child can break into a career in medicine, dentistry, and veterinary medicine.
Success in the city - How your child can navigate recruitment.
Parents' and Carers' Careers Information Guides
These guides are produced by www.theparentsguideto.co.uk. In addition to the guides this website has a wealth of information, support and free recourses for Parents and Carers. We hope you find these guides useful.
Please click on the image to access the relevant Parents and Carers Guide.
---
Additional Guides
Parents and Carers Guide to Employability Skills
This guide was prodcued by Success at Schools which is a national careers website for students aged 11-19. This guide supports Parents and Carers to understand the skills which your child will need to help future- proof their acreer. Please click on the image below to access this guide.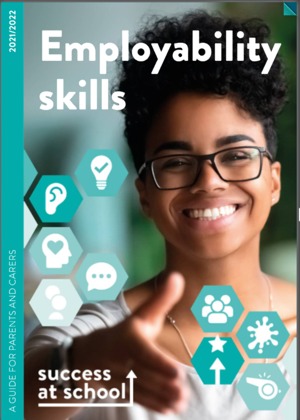 ---
Parents and Carers Handbook - Helping your child begin their career journey
As your children progress through school and start looking ahead to a life after education, it can be difficult for Parents and Carers to know how to help them navigate the confusing world of career options. For many, the ultimate challenge is knowing how to offer support without projecting your own career aspirations onto your children. With so much change – from new apprenticeship schemes, emerging technologies, political and environmental upheaval and the coronavirus crisis – Parents and Carers can feel in need of a guiding hand themselves.
This guide contains:
Choosing a career path
Pathways into work
University
Apprenticeships
Employability skills
Subject journeys
Gap years
How to future-proof your child's career
Action plan
This guide has been created by www.successatschool.org to help you take a positive role in your child's career journey. You will find a step-by-step guide to help them focus on career paths connected to their skills and interests. Please click on the image to access this publication.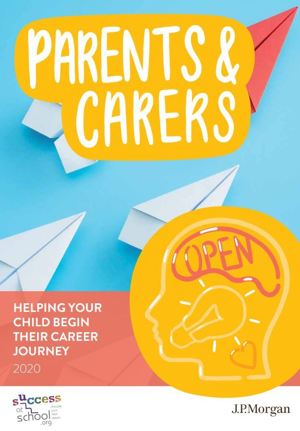 ---
A Guide to Post-16 Career Options for Parents and Carers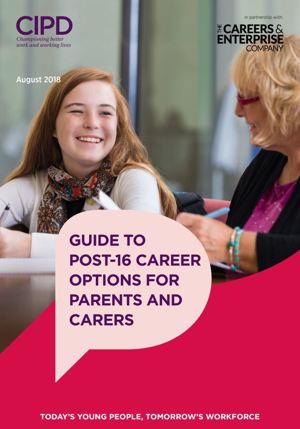 This guide produced in partnership with CIPD and the Careers Enterprise Company, is designed to help if you are a parent or carer to a child aged 11 to 24 and are thinking about their future career and what can be done to improve their opportunities. Please click on the image to download a free copy this publication.
Parental Guidance - Careers Information and Advice
This website has been designed with Parents and Carers in mind. It covers all areas of careers and offers ideas on how you can support your child on the following: